Five months ago, I started my own with KAL, a totally informal – and quite selfishly motivated – project to aid knitting through any existing sock stash that you or I might have. Because I had quite a lot of yarn – and it turns out that I'm not alone. The idea is to knit using sock yarn from my bulging stash using patterns from my existing library. Not rocket science – but really quite satisfying. And huge thanks to those who have joined me - and if you haven't already, you're very welcome to join the fun now.
​
​March 1st, aka the Official Start Date of the KAL, saw me cast-on Jane Murison's "

Manhole Socks

" which were a delight to knit in the Countess Ablaze "

Grey Skies in Manchester

". Both these were a gift from Jane herself, my most generous and talented sister-in-law, and had constituted the most recent additions to my un-knit sock collection. The KAL timetable allowed two months per pair of socks and I was thrilled to bits to have completed these ahead of schedule, by mid-April, and looked forward with glee to casting on the next pair.
The 1st May saw the joyous cast-on of "
Shelby
" designed by Rachel Coopey and knitted in her own "Socks Yeah" yarn. This yarn was another precious gift, from my wonderful friend Julie of
Suffolk Socks
. I have been wanting to knit this pattern for simply ages – ever since "The Knitter" included it as part of their sock pattern supplement many moons ago. Admittedly, I had been going to knit another of Rachel's patterns, "
Hulanicki
" from Pom Pom Magazine Winter 2015 but, for me Shelby, outshone most other options. So keen was I to knit
and
wear these socks that I started knitting them two-at-a-time (requiring more than a little concentration to ensure no incorrect placement of the right and left cables) - but then things went kinda awry.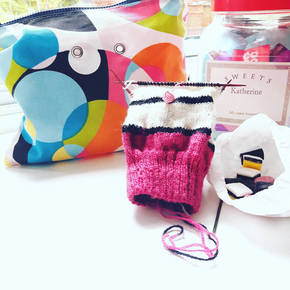 ​You know when you make a throw-away comment and then it suddenly turns into a "thing"? And that "thing" requires your immediate and devoted attention? Well that's how the #liquoriceallsortskal started (check Instagram for a flavour of the ongoing work). From innocent comments about liquorice allsorts to full-on research between brands, the quest for multiple blue aniseed jellies (not as common as you might think) to knitting allsort inspired projects. As it happens, my stash could accommodate such a challenge. And thus "Leila's Liquorice Allsorts Socks" were cast on.
"Leila's Socks" is a pattern originally written to accompany a children's story book written by my sister: "
Hector Hectricity and the Missing Sock
" by Elizabeth Lymer. It was my first sock pattern, written to fit Elizabeth's own feet and has not been graded for different sizes – at least, not yet. The original socks are knitted in rainbow colours so it wasn't too difficult to substitute these for a more allsort appropriate range. However, it was a little tricky finding pleasing places to add some black liquorice stripes – although this was nowhere near as hard as staying away from the actual sweeties! Oh my! I dread to think how many bags I've consumed – and suspect that any next KAL should incorporate a run-along too.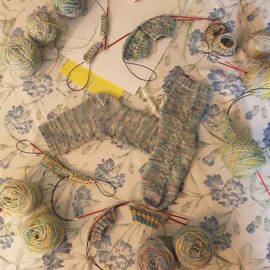 ​Liquorice-related knitting (though not the liquorice-related eating) was put on hold while I knitted socks in preparation for June's "
Retreat into your Knitting
". The knitting focus was knitting socks, two-at-a-time (other focuses being yoga, chocolate brownie and getting in the hot-tub with a glass of fizz) and this was such a treat all round! The same amazing Julie of Suffolk Socks hand-dyed – especially for us – some beautiful, beautiful sock yarn, which she thoughtfully divided into two skeins for our workshop and, rather wonderfully, named "What Katy Did Next". I confess that I was slightly disappointed when all places on the workshop were booked as it meant that I was unable to keep any of the yarn for myself. (Because clearly I need more!)
So while I did knit another pair of socks, these can't count towards the KAL as they used brand-new, un-stashed, straight-to-needles yarn. And do you know? It was such a wonderful feeling casting-on straight after purchase.
After the pressure of designing and knitting the "Ebb and Flow" socks for my retreat day, I was a little "socked out" and, with the large number of sock-projects on the needles, feeling rather over-whelmed: Liquorice Allsort socks, Shelby, Pumpkin Spice, Purl Soho Perfect Fit... This was more than a little disappointing as one of the main aims of the KAL was to prevent such negativity – but this is not an unusual side-effect from my reactive and un-planned cast-ons. Will I ever learn? A little, it seems, for I have (yet) to succumb to the temptation of any new sock yarn, despite the gallant efforts of the "
Yarn Tart
" (OMG. I might just have to unfollow her IG feed),
Pandia's Jewels
(have you seen her Pride and Prejudice collection?) and many, many others.
​
It's now July and, having just returned from a two-week holiday involving quite a lot of driving (Husband) and quite a lot of knitting (me), I am absolutely delighted to be able to share photos of my COMPLETED "I love you more than Pumpkin Spice Socks". So what if these were started months before I thought of the KAL: These count! And I am so pleased with them (which is quite surprising given the complete lack of blueness). And (and!) after several near wrong-cable-twist-misses, I separated my Shelby socks, which had the upside of allowing one to be finished but the downside of leaving the second sock at home. Thus it languishes in its far-from-complete state. (Along with Purl Soho and Liquorice Allsorts, I know, I know).
Yet, let's not get bogged down. We are, after all, talking about knitting, something that we love. And since 1st March, I have completed three pairs of socks, which ain't terrible. Sticking to the loose rules of the KAL (using stashed yarn, stashed pattern), two of these pairs of socks count (well, at least I'm going to count them), which rather wonderfully means that I'm still on track: two pairs in four months. Finish Shelby before 1st September and I'll be dancing, in a rather special pair of socks, no less.