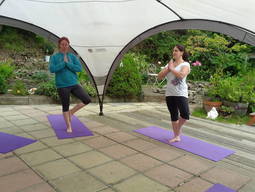 Exciting news! The next luxuriously relaxing day of knitting is on Saturday 10th June where our theme will be learning how to knit socks, two at a time.
We will be following a similar format as before: Our day begins shortly after 8am with yoga under the gazebo (weather permitting). Our practise is led by Jennifer Ainslie from The
Core
, Dunbar. Jennifer is experienced in teaching Hatha yoga to people with a range of abilities, including complete beginners, and our small group can provide the perfect opportunity for those exploring yoga for the first time.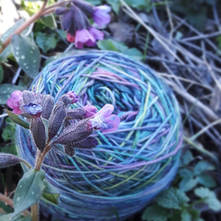 After a continental-style breakfast (including pastries, yogurt, fresh fruit and tea / coffee / fruit juices), we will head up to the studio to begin knitting. As an extra special treat, our yarn is being hand-dyed by Julie from
Suffolk Socks
. Especially for our day, Julie is dyeing a pair of 50g skeins for each of us - which will make preparation for cast on that bit easier. If you're unfamiliar with Julie's yarns, then pop over to her
website
for a flavour of some of her work - and I promise you that colours other than blue will be available!
Our day will then be spent knitting our socks, with breaks for lunch and tea and cake (no doubt the "cake" will take the form of "chocolate brownies") before setting down our needles and enjoying a wallow in the hot tub.
The price of this unique day (£98) includes your hand-dyed, luxury yarn, pattern and handouts; expert workshop tuition; 60 min yoga lesson; hot tubbing; breakfast, lunch and afternoon tea during a full day at Deanfoot (8am - 6pm).

To help ensure that all participants receive plenty of individual attention while they develop their new knitting skills, places will be limited. Your place will be confirmed upon full payment of the fee. This workshop is suitable for those who have knitted socks before (either top down or tow up, magic loop or dpns).

For more information and to book your place, please email me:
katherine@knittingwithkatherine.com,