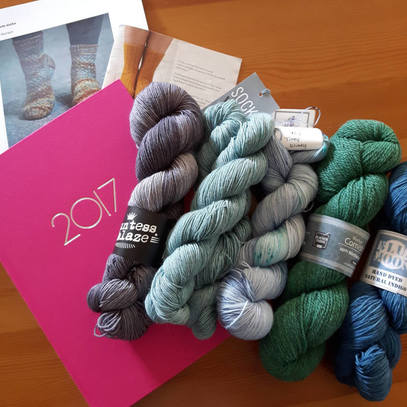 In two days, I can kick-off the knitting for my sock club and I'm really looking forward to it. This is not an original idea, inspired as it is by Joy's own "proper"
sock club
using some of her gorgeous "The Knitting Goddess" yarns – but unable to justify acquiring yet more sock yarn when I already have a small mountain, I've decided to make my own "club" to guide my sock knitting through the rest of the year.
The format of mine is similar to Joy's in that I'll be introducing a new pair of socks every two months – which shouldn't put me under any extraordinary pressure and could even leave time to work on something else (you've gotta love my optimism!). I've loved going through my stash, allocating yarn to patterns – and not forgetting the all important needles (dpns or circular?) and the project bag.
In the build-up to March 1st, I've also found myself solidly working away at existing projects in a way that I probably wouldn't have done otherwise: Without an official project start date, I would have already cast on the next pair of socks but waiting has allowed me to complete my Bressay Dress
and
my Bendy Arrow Shawl
and
make progress on my Pumpkin Spice Socks – all of which I'm delighted with.
If this is MUSIC (or even MUSI-KAL!) to your ears (get it?!) and you fancy joining me, please do. You've got two days to match sock yarn to pattern and make yourself a happy wee project bag to start on Wednesday. As please drop me a line as I'd love to hear what your plans are and how progress is going....