I was simply delighted to have received a copy of the first edition of the brand new magazine from
The Craft Network: "Love to knit and crochet"
– especially since, as you well know: I do.
Let me start by being completely upfront with you: The occurrence of magazine appearing through my letter box wasn't entirely random as I've had the great pleasure of knowing and working with the Craft Network's Knitting Assistant, Freddie Patmore, ever since she proved to be my Knightess in Shining Anchor Artistic Metallic just before a Christmas workshop a number of years ago (four? Five?). Freddie is brilliant: A superb crafter - both practically and technically – an excellent teacher and enthusiast, and an all round lovely person - all elements, it turns out, that you can find in the new magazine.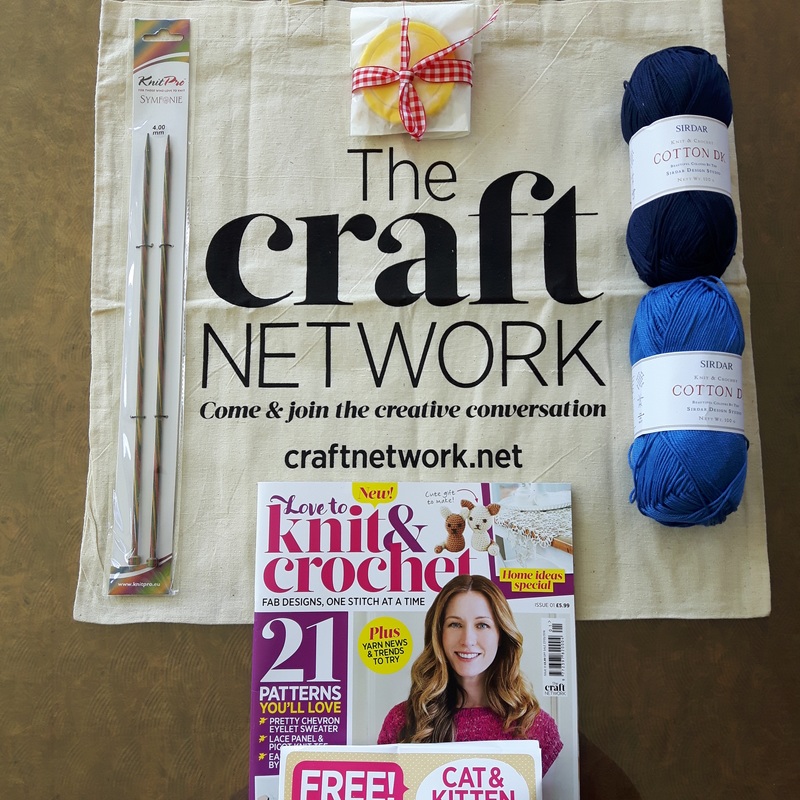 Colour is given a key role throughout the magazine, varying from bright and bold, to more sublime shades with a vintage feel to warm neutrals. You know me well enough not to be overly-enthused by the very bold (sorry, Freddie) but I admit that they were cleverly used in the "Yarns to love!" section to demonstrate stitch definition.
As a knitting and crochet tutor, I loved the prominence given to their own workshops (pages 6 and 27) and imagine that it would be a huge treat to spend a day at Craft Network Home's HQ – let alone experience the large range of subjects that they offer. The likes of us "up north" could catch the sleeper or take the first train out to make the 10am start (though with the latter, we may be few mins late), and it's great to have another series of fab workshops to add into the mix. I hear London has one or two yarn shops of its own, so there's probably ample to do, say you want to spend a night or two away from home.
I enjoyed the article about 'Frank and Olive' – not least as it allowed me to be "in the know" at a recent meeting – and I'm even tempted to crochet the bunting (I do love a bit of bunting). I loved the mood boards in "The Sketchbook" and the photography - particularly that in the "Staying Neutral" section of "The Lookbook". The patterns are clearly written with clear instructions for every stage of the process – including the lining (often omitted elsewhere). "My logbook" on the final page of the magazine really appeals to me – with designated spaces for the tension square and photograph of the completed item. Yes, I know we have Ravelry but yarn is an inherently tactile medium and there's something rather lovely about not only being able to view but also squige the fabric of project's past.
Sometimes it can be the almost throw-away comments that touch base: It seems that 706 of you have been brave enough to share your stashes with #flashyourstash and a mighty fine collection there is too. In fact, the invitations to join in are numerous: Sharing your good knitting reads (#bestbookever), a photo of your completed project on FB, or images of yourself arm knitting (#armknitselfie). Clearly the cable knit-effect ceramic jar deserves a place in my home (page 10) and I might even be tempted to buy the "Woman's Weekly Guide to Crochet" if I was guaranteed to create the featured, gorgeous throw.
Of course, the crucial question is whether or not I would buy this myself – and maybe I would. I'm interested to see if and how, over time, the magazine evolves. I have no doubt that in its current form, it'll quickly generate an interested and loyal readership – but I'm going to guess that their average age is at least one decade less than mine (and perhaps even two). A lot of consideration will have been given to featuring a twenty-something, crochet designer and blogger and her best friend in their opening issue; a crochet partnership known for their big, bold designs with an almost childish naivety – making them ideal for teenage and parent crafters alike. I'm not so vain as to suggest that just because a particular design style doesn't resonate with me, it shouldn't exist – may I refer you to my
article on arm knitting
– and given their wide-ranging appeal and new collaborations with the likes of Patons, their success is to be genuinely celebrated.
And perhaps this is the key advantage of this magazine, a real positive that the likes of I haven't (yet) fallen head over heels in love with it. Perhaps it fills a niche left by the likes of "The Knitter" and Rowan magazines? "Love to knit & crochet" is fun. It's completely on trend with timely articles, patterns inspired by current fashion styles and fun accessories and other yarn-related niceties. Put that way, there is nothing surprising or unexpected about the reaction from a nearly forty-year old, Rowan die-hard. It's certainly a great magazine: Well written, well thought out, well researched - just it's probably not for me all of the time. But I shan't stop looking. I enjoyed all the time I spent with "Love to knit & crochet" – and am very grateful for the opportunity to meet the newest – and coolest – mag on the crafting block.