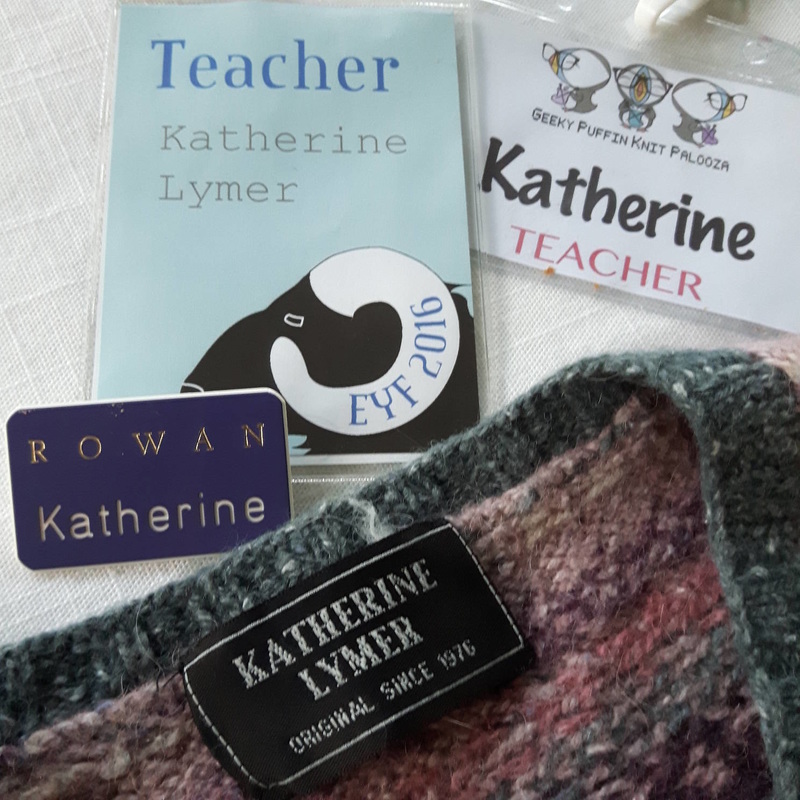 ​You will not be in the least surprised to be told that I love knitting. Just love it. But, for me, knitting isn't just about the yarn or pattern, it's about the people: I love knitting with other knitters. Thrive on it. It's a pure pleasure and fills me with a happiness that I find hard to describe. And is why I love teaching my knitting classes and workshops so very much.
In this large and varied knitting world of knitting professionals, it can be difficult to find a place. Before, I was a knitter, pure and simple. I found a pattern I liked, bought yarn that I loved and 'cast on. Admittedly, I'd have often bought another pattern and yet more yarn before the completing the first project, but I fell very much into the "delighted consumer" box, with never any great desire to design: For me, there are more than enough wonderful, perfect even, patterns in existence – and more falling off the needles of our most talented designers all the time – to fill every need and knitting desire that I ever knew that I had, and then some. But then I started teaching knitting professionally.
It was early spring 2011 and
Rowan
were looking for a new Design Consultant (DC) to work in Jenners in Edinburgh. For various reasons, I had recently resigned from my day job – the job, my Husband, used to remind me, that I had spent my whole adult life training for – and my future was completely unwritten. Yes, we were delighted to have Baby Daniel in our lives, shorty to be joined by his brother Joshua, but that whole 'career' box was open to all sorts of possibilities. Turns out that Rowan were able to tick that box - and I have never looked back.
Those of you who have known me a while know that I never became that DC in Jenners, instead joining Rowan's team of Workshops Tutors. Practically, this not only allowed me to meet my requirement of being able to work around my family but it also made use of my teaching skills. Now I'll be the first to admit that I don't have any formal teaching qualifications but, as so often happens in a university setting, you can end up being involved in a little (or a lot!) of everything – it comes of being part of a team and it's something that I value most highly. So, I've taught MSc classes, supervised PhD students, given tutorials, presented at international conferences and co-organised and worked at public scientific outreach events. I've also written a bit, two theses (one MSc, one PhD), several journal papers as well as internal reports and protocols. None of these are knitting related but point towards the person that I am, or try to be: Thorough, consistent, well-researched and informed - with a passion to share my knowledge and experience. I take my work seriously which, when it comes to all things knitting, is a complete pleasure.
Stand alone knitting teachers though, these seem to be a bit of a rarity. There are lots of designers who teach but how about teachers who just teach? We know designers can often draw a big crowd having nurtured a following through pattern releases and knitting publications. Most of us are interested in the Maker's Story so it can be a big enticement to learn a little more about our favourite designer and perhaps gain some insight into what makes them tick. And as a business model, it makes sense: A known designer is more likely to get bums on seats than an unknown teacher - and bums on seats pay the bills and enable more yarn. But a designer may not necessarily be a good teacher just because s/he excels at crafting their wonderful ideas into yarn and onto paper - so how do we know who is good at this?
Having spent a large part of my life gaining certificates and degrees to help validate my work and career choices, I find it a bit unsettling to have no such paperwork to support my chosen ambition. I realise that it would hardly create the desired atmosphere to stand at the front of my host yarn shop and list off all my relevant formal qualifications at the beginning of every workshop and, in all honestly, I find it very hard to blow my own trumpet. And, as it turns out, people don't seem at all that interested or need the formality: They come for the knitting and that's what we do.
Yet, this idea of validation is something that I seem unwilling to leave. When I ask for feedback at the end of my workshops, it's generally very positive – sometimes so good I find it hard to believe. I appreciate people taking the time to formulate their comments and so perhaps now is a good time to thank them, again, for doing just that. However, I'm not the sort of person to post these publicly – but perhaps I should? Else how are you to know that I'm any good at what I do? Knitting designers create pathways to trust and repeat sales through great design, excellent choice of yarn, clear pattern writing and the appropriate QA (i.e. tech editing and test knitting), but a knitting teacher? Erm... The feedback is helpful and positive affirmation through word of mouth recommendation is highly desirable, and while a tutor might generate a small group of interest folk, there is a limited number of workshops that each knitter wants to / can attend – they don't tend to stash as easily as yarn and patterns!
So, where does this leave me? I have explored the idea of designing my own patterns but these alone don't interest me (as I've already said, there is a plethora of wonderfulness to choose from). However, I absolutely love designing something new for a specific class or learning point and happily spend hours and hours creating a project that will allow a new skill to be learnt and consolidated – as well as end up being something beautiful. Having been doing this for quite a while, I've got a wee library of my own patterns and, as part of the process of creating new designs for new workshops, have decided to make some of these designs available. The
"Om Balance" Yoga Socks
is the first of these and, as the others are tweaked and tech edited, they'll be made available too. It's not the most robust of business models but then, I'm not about the patterns: I am teacher.
I'm also a bit of a knitting floosie and happy to travel to yarn shops or other yarn-related venues far and wide: Have motor-home, will travel. Turns out my Personal Liability Insurance pretty much covers me teaching anywhere – though Husband has already vetoed me proffering my services to any Sydney or Melbourne base yarn shop during our planned trip to Australia. Since I always travel with a suitcase of hand-knitted samples, cushions and other niceties to "dress my room", I guess he has a point. But really, can there be many better ways to see the world than on those journeys where meeting new knitters is part of the destination? Each one of us has a story, sometimes many, that we're often more willing to share over working needles and a cuppa. It's a privilege to hear such stories, to be part of such groups, to facilitate learning and ties of friendship that may extend beyond the day's workshop. Such times remind me that it is always, without doubt, an absolute honour to be Katherine, your teacher. Thank you x