Firstly, may I offer my sincerest apologies for being out of contact for so long. What was my normal routine was thrown by a change in Youngest Son's own where he went from swimming after school (at the same time as his older brother) to a Monday morning. Much better suited for a three year old, I'm sure you'll agree, but not so ideal for the Monday-morning blog-writing Mummy. And despite being a stay-at-home Mummy, my week is surprisingly busy with teaching, volunteering in school and the odd yoga class – and that's before nursery and then school finishes and we're back into full-time Mummy mode. So yes, hands up: I've failed to find a new time to write to you (but on the flip side, these morning swimming sessions seem to be working).
This delay in communication has been particularly frustrating as I've been so excited to tell you about the Edinburgh knitting retreat that I taught at:
The Geeky Puffin Knit Palooza
. In finally putting fingers to keyboard, I'm relieved that a full month has not yet passed since it was held - but it's got pretty close. And brings me onto the second excuse I have for being so poor at keeping in touch: I returned home from Edinburgh with an eye infection which took a good four days to start responding to the prescribed antibiotics. Such an infection is never good and it's also debilitating for a knitter (and other such hand-to-eye people): I couldn't knit, nor read, not write; television didn't hold much interest – though, unfortunately, my snacking wasn't unimpaired and that quickly became the method by which I passed my evenings. (So yes, if you're wondering why you're seeing me running the roads around Reston slightly more frequently than usual, now you know.) But all is now well and here, at long, long last, I am. How are you?
May I tell you about the Knitting Palooza? Oh my! It was fab, just fab. I will admit that my expectations were woefully low and that I was quite anxious at the thought of three nights away without knowing a single soul at my destination. Once upon a time, never such a negative thought would have crossed my mind - indeed, when I was first approached to teach at the retreat, I had a hard time keeping the smile from my face as I explained to Husband that my over-night attendance was part of my tutoring benefits so it was only sensible to use the offered facilities. Sensible, yes – and maybe a little desirable too. But then my confidence, my naive assumption that all knitters would happily get along was shattered: I had taught at a large knitting event, one where entertainment was provided in the evening after a short intermission of yarn-related services. Working under the false assumption that I was bound to see some old faces or meet some new, like-minded knitters, I opted to stay. The confusion about who could and couldn't remain in the building during the interval resulted in my wandering aimlessly around a nearby shop and then making an early return to the venue. The more organised of us had stayed and ordered in food and if there had been a general invitation to participate, I was unaware of it. In the minutes while we waited for the room to become available, there was more uncomfortable milling about, searching for a familiar face and then facing disappointment of not finding a friend or an invitation. Already tired from the post-adrenalin rush of some pretty-good workshop feedback followed by a most wonderful alpaca-related purchase, I have to admit that I was crushed. In my exhaustion, I took the rejection personally and went home.
Many months later, and after repeated re-assurances as to my personal hygiene and character, I began to wonder if the size of the event had, in fact, been one of the barriers to more easily striking-up new conversations with new people. In large numbers, perhaps any willingness we individuals might normally have to be more inclusive and welcoming is lost, for we delegate those responses to others in the group who, it appears, are probably operating under a similar mode. Combine this with the oh-so-disappointing realisation that the knitting world, just like every world, has it cliques and you have one isolated and lonely Katherine. So you can understand my trepidation for the GP Knit Palooza – but never has a fear been so unfounded.
The Geeky Puffin Knit Palooza was a residential knitting retreat and, as such, its numbers were much smaller – but I reckon that for the thirty or so of us who were there, it was just perfect. Right from the moment I swallowed my nerves and asked to join a group of knitters in our pre-dinner knit (Thursday night dinner being the first official event of the retreat) I felt welcome, liked, included, happy – and so, so relieved. That first dinner was a delight – as were all our meals. As were all our times, in fact.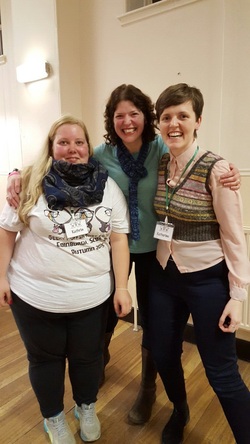 Please forgive me if I start gushing but I'd like to say a big "thank you" to everyone else for going. You are all, without, exception wonderful - and that's not just the three Katherine's :-) It was an honour to meet you and spend time in your company. I am delighted to have made new friends, people who I know I'll see again and who I can't wait to do so. You all made the weekend so positive, so very special and you have restored my faith in the general hand-wavy love and acceptance that I had assumed was shared among fellow crafters. You have returned the soul to collective knitting; in fact, you – and others like you - are the soul of knitting.
Can I tell you about the food? It was delicious! Proper, "home cooked" in that substantial, country-kitchen type way using seasonal ingredients (including apples from their garden) to create a variety of delicious and well-thought dishes – and for all our palates, whatever our dietary needs. It was difficult – if not impossible – to over-indulge. Which brings me onto the yarn. Oh my word.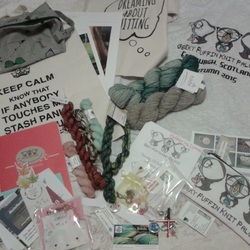 Oh. My. Word. Never, ever, ever, have I splurged so. And I have no defence, none. So here, for the prosecution, is a photo of the goody bag that we received upon registration. Pretty awesome, eh? And then there were the door prizes: Yarn, patterns, bags, notions, needles, more and more and more. Prizes every night. So clearly (clearly?) what we needed was an opportunity to buy more ourselves.
Two words: Yarn Crawl. No, four words: Yarn Crawl [and] Vendors Market. 24 hours of yarn madness. To avoid congestion while we crawled around some of Edinburgh's yarn shops, we were divided into three groups and my fellow team-mates and I started at "
Kathy's Knits
". You'll know that I already spend a large amount of time there and am quite familiar with her stock (indeed, some of it has already taken up residence in my studio) so I felt that I was on safe ground. Needles, I needed needles for a project I had been gifted (as unbelievable as this sounds, I can assure you that it's absolutely true) – plus a(nother) pair of sock blockers. For displaying my socks at workshops – so work related then. Then we went onto "Ginger Twist" and that's when the trouble started. In hushed conversation with another attendee (soon to be known as my "Enabler"- as only a wonderful and trusted yarn-friend can be called), I had confessed that I wanted nothing. Nothing. I already had enough yarn, more than enough. And I was looking forward to casting on my next Rowan project. I needed nothing. And I really should have taken her up on her offer to swap debit cards.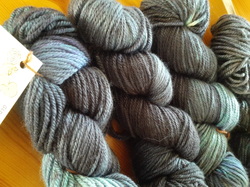 For those of you know don't know, Jess from "
Ginger Twist Studio
" dyes her own yarn and it is glorious. Strong, vibrant, take-me-now colours. But I was immune. You know me and my "if I don't have a pattern, I'm not buying any yarn" foible. So I bought my first ever copy of "
Pom Pom
" magazine (I've clearly been living in a cave) – and maybe one or two back issues – and "
Great White North
", the most recent collection of patterns from the brilliant
Tin Can Knit
s (I'd particularly fallen in love with their cabled jacket, "Jones", for one or two little boys that I know and love). I had actually paid and was leaving the shop when zap! The blue of Jess's magnificent "Splendor" DK shot through my protective cloud of indifference and I was, quite literally, smitten. That'll be four skeins please – so I can knit this lovely cabled jacket for my boys. Sold.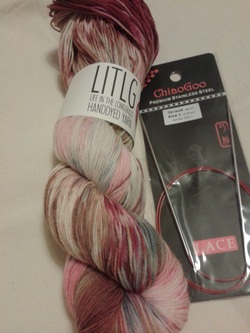 The wait for our bus allowed temporary recovery from the "spend guilt" and by the time I'd stepped on board, I'd managed to rationalise my purchase, re-order my knitting queue and set the world to rights. Which was a particularly stupid thing to do just as we were arriving at "
Be Inspired
". Oh. My. Word. Remember that Katherine who doesn't buy yarn unless she has a pattern? Well goodness only knows where she went!!! The Enabler has spotted some "well known" sock yarn that Katherine had never heard of – and she was politely enthusiastic (although inwardly ambivalent) until she spotted her own skein of "Treasure" (yes, that's what it's called). Then there was the "Crushed Raspberry" – but think damson or blackberry for a better idea of the amazing, rich colour: A single skein in lace weight. For what? For my shopping bag, obviously. Seriously! Who was this woman?
And it didn't stop there, oh no: Turned out The Enabler had her own table at the next day's Vendor's Market and so I stayed late after dinner to help her set-up – if, by "set-up" we mean shop some more. And then there was the market itself where more (more!) was purchased. These purchases I am 100% comfortable with as they are all gifts for other knitters I know and love; they were bought with them in mind in the hope that they like them as much as I think they might.
At the end of all this, the display of yarn and yarn-related goodness in my retreat room really did have to been seen to be believed – and for that reason there is no photo documenting my fall. I was shocked, truly shocked at my complete lack of control. Fear not, it wasn't like we were going to be without food or fuel as a consequence but I felt as though I crossed a line, entered some dark side of stashers.
And then, as is so often the case, the balance in my world was restored by the kindness of a friend: The Enabler gifted me some yarn. In light of everything that I have just told you, I know that this sounds ridiculous but I treasure this gift. It's the prefect shade of a brand new yarn that she knows I admired that I can use to knit a pattern from the brand new edition of a magazine that she introduced me to. So completely perfect – and I can't wait to cast it on.
Clearly I could go on and on... I haven't yet told you about the "Layer it On" KAL or the Instagram Scavenger Hunt or the specially dyed yarn or Kate from "
A Playful Day
" – but I should probably start drawing this to a close. However, a blog about the palooza would be incomplete without thanking the organisers: C.C. and Damaris Almon, and Sam Boggia. And thank them, I do. They thought of everything. Their choice of venue was original and wonderful; the range of classes they selected for their attendees were unusual and inspiring; the yarn crawl and vendors market were evil and totally unnecessary. Err, sorry no, they were great: Great to meet local crafters, producers and sellers; great to spend so much time with new friends doing just that; great stocking up for the yarn plague. They provided bus tickets and after-dinner treats; on our behalf they obtained contributions from the great and the good and the select and the local. But, much more importantly, they brought together a group of strangers who, over the course of three days, formed strong and lasting friendships. Now that's amazing – and so are you. Thank you, thank you very, very much.