Normally, I'd be running at this time and not only does this help combat the excesses of the weekend, but it gives me a chance to sort out the mess in my head and I usually return both physically and mentally invigorated. But not today. For some unexplained reason, my toe – the one I broke – aches and although I'm now pain free (thanks to some ibuprofen), I'm trying to be sensible by not pounding it for three miles around Reston. But this is doing nothing for my swirling mind.
Yoga is my next port of call but, before then, I'm hopeful that this time with you will help clear some of the fog in my head as I've an inkling that most of this uncertainty has arisen from some knitting-related madness – and not, in fact, the new purple leggings that I'm wearing for the first time today.
I suspect it's all to do with the sock. You remember that sock, the first of my "abandoned" knitting presents that I resolved to put into my handbag to knit on the move? Well, it's all I've been knitting. Pretty much all week. Oh, though that's not true: I cast on on Wednesday and could have completed it last night, only it's too small. Which is fine – I'd guessed that it would be (designed for sizes 4 – 7 and me having size 8 feet). Now knowing that I've got some spare yarn to work with, I can take the toe back and knit a couple more rounds of the foot and then hopefully I'll have a completed sock that I can wear, rather than a completed sock that'll be gifted to someone with smaller feet. It's just that the sock wasn't supposed to become the all consuming project that it's turned into, proving exactly why I can't be trusted with multiple projects on the needles. This might be marginally more acceptable if the only other knitting that I'm doing is for my own personal enjoyment, but we also know that's not the case. And so the deadlines slide.
Since these are "Katherine" deadlines, set to be weeks in advance of the actual deadlines, I shouldn't worry. And I certainly shouldn't let it spoil the near-week I've had "off" from work knitting. I've enjoyed knitting the sock, I really have. Not only has it reminded me how very much I enjoy sock knitting but I'm also enjoying the anticipation of being able to share with the present-giver an update on my progress and, ultimately, a completed pair. They're also my first pair of cable socks (big tick) and they use a slip-stitch heel – which makes a change from my usual flap approach. An arran weight on 4mm needles, it's also been a fast knit and – if memory serves me correctly (!!!) – the socks could also contribute to Team Pink's "show and tell" entry at the
Geeky Puffin Knit Palooza
.
Speaking of which, I could just jump right on this sock knitting train and compete the preparation I have to do for my sock class there – good for the knitting obsession and good for clearing some brain space. Once done, I can continue my cable obsession with the fingerless gloves, also for the knitting retreat. So perhaps this hadn't been such a bad thing after all? Perhaps these socks were just the project I needed to re-inspire me to work. They truly are the gift that keeps on giving.
And speaking of giving, this
Sunday's crafternoon tea
is in aid of Macmillan cancer and so if you're not doing anything between 2pm-4pm, perhaps you'd like to eat some cake for charity?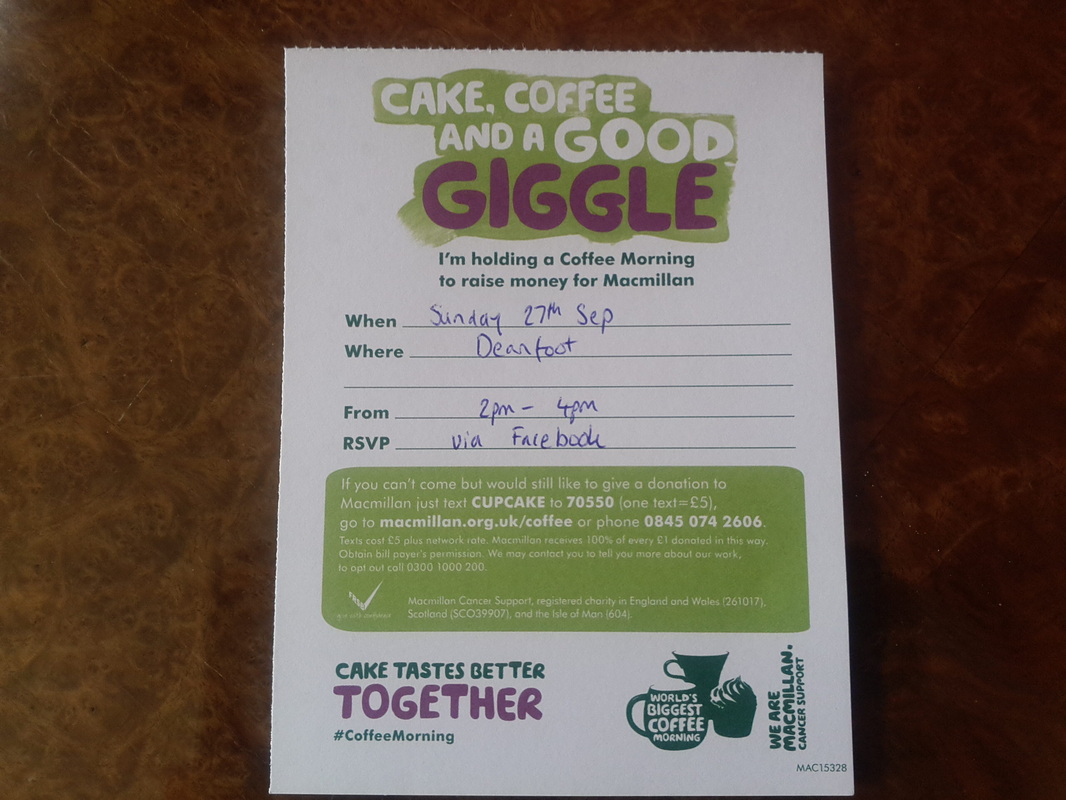 Well, this is a much happier version of Katherine signing off. Thank you for helping me identify and embrace the positive of these last few days. I had thought that I'd wasted them and was burdened with the worry that I had – and not for the first time – left too much knitting for too little time (2am bedtimes really aren't the solution). But it's not true and my Monday – even with its manic mileage – is so much brighter. Thank you. And I hope that you have a good Monday and a great week xx