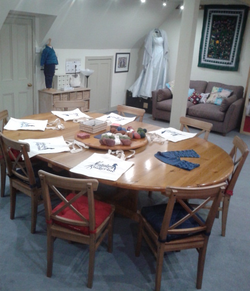 On Saturday, I held my first ever full-day workshop at Deanfoot - though when I say "I", I really mean it was a team effort. One of the vital team members was Dana, most wonderful friend and skilled crafter herself (have you seen her gorgeous
children's clothes
?). Dana, and her military-style organisational skills, meant that the quiet preparation all came together at just the right time. With some additional help from Sheena, little miracles kept occurring: Furniture magically moving back under the gazebo, dishes cleared and who can forget the ball-winding dance! Thank you both very much.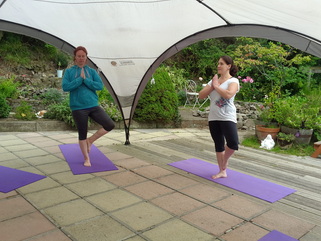 Another key team member was Jenny from
The Core
who brilliantly led our yoga and, rather fantastically, the weather allowed us to practise outside! I don't have a great experience of yoga (unless wishing that I had time to do more counts?!) but I was very surprised at the difference it made doing it outdoors: It was simply wonderful. I have come to realise that there are probably few "perfect" places to practise yoga – even in a designated studio there will always be some untimely sound (usually at the relaxation part) – such as a lorry driving past or someone entering / exiting from a neighbouring building. So long as these don't interfere with your practise or create a distraction from which you can't separate yourself then these, as with lots of aspects of life, are things that we can try to accept and move on from. So while we were outside with the birds chirping in the trees around us, the water falling gently down the stream into the pond and enjoying the soft breeze upon our skin, yes vehicles continued to use the nearby road, trains ran along the track behind that – and a one of the resident cats had a quick sniff to check that the group of women lying in corpse pose weren't actually dead. This is me, so yes, I did fret a little that these "nuisances" might adversely affect the others but they seemed to take them in their stride – and were hopefully too consumed by the super class that Jenny had prepared. She pitched it to exactly the right level for all of us and executed it with her usual grace and friendliness – making everyone feel included and able, no matter what their (my!) actual ability.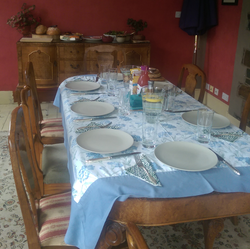 Now you know that no workshop of mine would be complete without food playing quite an important role and so immediately after yoga, we sat together and enjoyed a breakfast of fresh fruit, yogurt, croissants and muffins. And then the knitting started!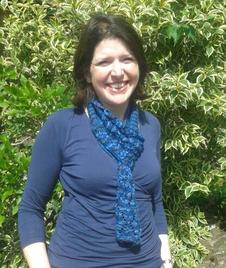 This was an introduction to lace knitting for which I had designed a simple, but elegant, scarf using the falling leaf pattern, knitted in the ever sumptuous "
Fine Art
" from Rowan. "Antoinette" is designed to be beautiful yet functional, with a loop to allow the scarf to loosely fasten without flapping around shoulders or needing constant adjustment (spot the mother with two young children!). I am delighted to report that all knitters produced some simply stunning pieces of work! It was a joy to see confidence building as each row was completed, share in the satisfaction of seeing the pattern coming to life and a real pleasure to enjoy the different colour ways of the Fine Art as the scarves grew on the needles.
One of the major learning points for me is the revelation that chocolate brownies are essential for lace knitting – for which I also need to thank Dana (I'd baked them for afternoon consumption - of course we had enough for two servings!). During that first row of knitting, which is always a bit tricky following the cast on and particularly if you've just learnt a new method to do so, it can be easy to feel overwhelmed: So much to take in – new techniques, the counting, the repeats, the counting, the keeping your place in the pattern, the counting, the occasional TINKing, the counting and then oh! The blessed relief of reaching the end of the row with the correct number of stitches! It can be exhausting! And put that way, it's blindingly obvious that brownies are required – and seemed to do the trick just nicely.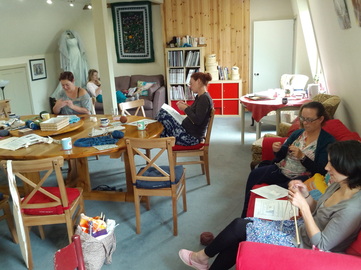 There was of course lunch after which we relaxed comfortably for another hour or so of knitting. If I could have bottled the atmosphere in the studio... It was just so wonderful to be part of that group at that time. Most of the major knitting hurdles had been crossed and people seemed content to carry on knitting at their own pace, enjoying the chat and the music (thanks again, Dana).

Little Miss Worry Pants (that's me, in case you're wondering) always starts to feel uneasy at such times because I worry that I'm not doing my job if I'm not busy helping others – but there's something to be said for just being one of the knitters, and that thing is "thank you. Thank you very, very much".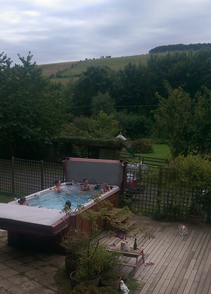 Our day concluded with a soak in the hot tub. Not really sure what needs to be said about sitting in blood temperature water with the sun shining down on you: Bubbles, bubbles and more bubbles. It was a bit difficult to get out – as Husband will affirm as he found Sheena and me still wallowing nearly two hours later!


With requests for another knitting and yoga day retreat, I'm already planning new versions of Saturday including an exciting collaboration with Sheena, Seamstress
par excellence
and the talent of
SeamSew
. So keep a look out for more information – or join my mailing list (by emailing me) so that you're always among the first to know.
Which leaves me to say an enormous "thank you" to everyone who came. Thank you for sharing so much of your precious time with me, thank you for being such excellent company, thank you for making a truly wonderful day xx