It seems as though I've hardly spent any time at home this month – through a combination of my
machine knitting workshop
(which you already know about) and a fortnight's holiday in North Wales (that started with a quick jaunt into mid-Wales to collect a new knitting machine; it's like my life revolves around knitting). This is my first full week at home and whoosh! It's the end of the month already.
On reflection, it seems that July has been a productive knitting month – and no, I'm not just referring to the machine knitting that is super speedy and also super satisfying. The scarves needed for the Edinburgh Book Festival are near completion and yesterday, I finished the final panel of the baby / fireside blanket that I've designed for my next series of "Learn to Knit" classes. (Lots and lots of motor home knitting :-) ) This morning, while the panels lay drying, I cast on the first 41 stitches of the lace scarf that I've designed for my yoga retreat day and I'm really looking forward to making some progress on it this evening. So yes, all work knitting but hey! I can't complain when knitting is my work (and don't worry Team Pink: I'll be uploading some images of the completed items to the
Geeky Puffin Knit Palooza KAL
– and that'll hopefully earn us a few points).
I was about to tell you that I haven't bought any yarn this month and in one sense this is quite true: I haven't actually been to a yarn shop, fallen in yarn love and left with a bulging rucksack, trying to maintain an air of innocence while avoiding eye contact with my beloved Husband. In reality, this is a massive three black sacks of random yarn away from the actual truth – for along with the knitting machine, came three bin bags of yarn on cones. I am so completely overwhelmed by the amount that they are still on the motor home from where they accompanied us on the hundreds of miles of our holiday. I have tidied up one of the sheds to act as a quarantine area in preparation for receiving a more ordered version of this cargo – but then it started raining and that put an end to it.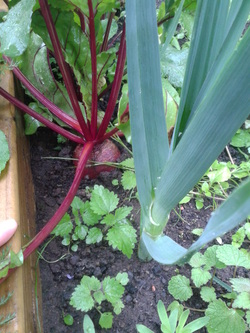 Speaking of rain, there does seem to have been rather a lot of it – mostly, I'm pleased to say, in our absence. It has run riot with the vegetables that I was lovingly growing: I'm am not exaggerating when I tell you that the spinach is as tall as I. As a vegetable, it's pretty useless – having outgrown its worth and gone to seed – and I fear that some of the others might be going the same way. But not all: I have some plump looking beetroot, not too scrawny leeks and below some giant leaves, wee broccoli crowns (is that what you call them?). Somewhat predictably, the boys are far less interested in the patch now that there's a definite risk that I might actually expect them to eat some of the produce. Leeks, apparently, are poisonous in anything other than leek and potato soup; I fear I may be "hiding" the beetroot in chocolate cakes – and perhaps doing similar with the courgettes. Might be on safer ground with the peas and, since the tomatoes remain a stubborn green, we might be saved an additional argument or two.

It has been a terrific learning experience though, and I'm really excited about next year. The strawberries were delicious – but there weren't enough of them. And even though they'll be moving into the smaller greenhouse next year, there's still room for at least a couple more plants. Under the advisement of one of my neighbours, I will be growing next year's tomatoes in the larger greenhouse and, due to my training in the identification and removal of side shoots, the plants may look less jungle like. I will also sow the seeds earlier – although, in fairness, given the lack of heat this summer and particularly these last three weeks, there isn't a huge difference between the late and early versions.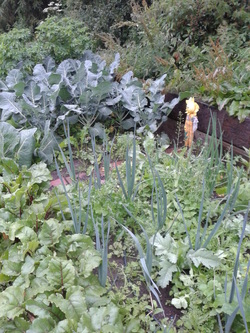 I'm also hoping to better plan our holiday. While it's nice to go away in the summer – and indeed, we were very fortunate with some great weather in Wales – it's a really silly time to go away in terms of the garden. We missed the last of our strawberries and it was only with the help of my mum that we harvested fruit from the gooseberry bushes – now all safely stored in the freezer awaiting transformation into jam, crumble, curd or other. Although we installed an automated watering system, it's the finer details that can make all the difference – like controlling the temperature of the greenhouse by opening / closing windows and doors at the appropriate time. And the not so delicate tasks such as harvesting your produce before it goes to waste. Husband doesn't agree with me and so perhaps another solution is that a keen gardener or two could holiday at ours while we're away – applications in writing, please, care of the Lady of the House.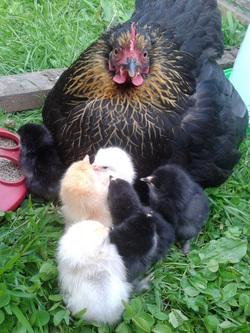 Of course, no blog would be complete without mentioning the chickens and my word! What a chaotic lot they turn out to be. The day after my
June blog
, Primrose (the hen that I'd "imprisoned", remember?) became the proud mother to eight chicks. One went mysteriously missing, the less healthy one died and so we're left with six. Want to hazard a guess at the number of cockerels? Four. Then one fell and got trapped in the wire of the run and looked, for a couple of hours, as though they might not make it. Want to guess the sex of that bird? Female, of course. However, I'm most pleased to report that under the loving care of another of our brilliant neighbours, she has recovered and is now back with her mother and siblings. Just call our neighbour Dr Dolittle. But this is not all the news. Oh no. We were still a chicken down. The day after our return I had searched the garden for said chicken and had found a clutch of 10 eggs and feared that their mother had been got by Mr Fox, Fantastic or otherwise. Dr Dolittle had also searched for her while we were away and this man is an expert (you may remember that while we were on holiday last summer, he discovered the same chicken sitting on 11 eggs, 10 of which hatched.) Anyway, just two days ago I was taking a friend over to the kitchen garden to show her the jungle that it had become when Pepper came strutting out of the undergrowth with 11, yes eleven, chicks! Five beautiful black ones, five creamy yellow and one gorgeous little yellow one who was clearly the last to hatch as was struggling on its feet. They are now all safely ensconced in post-natal unit number two. And yes, start placing your odds for the number of cockerels in this batch.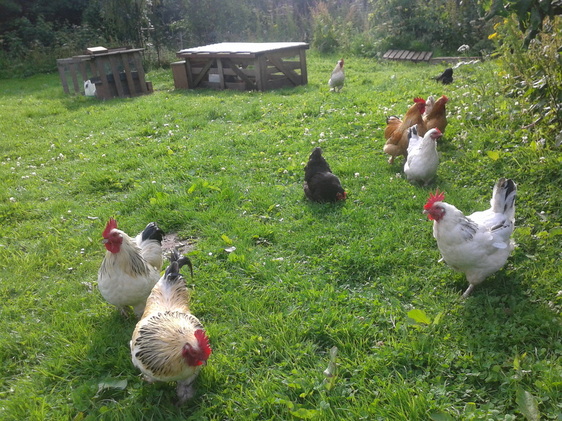 What next? Well, I should probably start eating some of the food I've grown – rather than staring at it helplessly, which is my current approach. And I should also do something about the weeds, at least some of them: "Natural" is all very well, but we're sporting the Amazonian look and this really isn't compatible with collecting eggs from free-range hens (or, indeed, monitoring their numbers). Knitting wise, once the lace scarf is finished, that's all my work knitting complete for
workshops up until the end of October
– when I'll be teaching at
The Geeky Puffins Knit Palooza
and
Crafts for Christmas
at Glasgow SECC. The latter doesn't need any formal prep as the brilliant people at Women's Weekly will be providing the patterns and handouts. The former requires a brand new design for a brand new class (exciting!) and even though my second workshop is familiar ground (sock heels), I'll want to revamp it especially for the occasion. Oh! Speaking of socks, I've changed the format of my sock workshop here: It's now going to be a full day (10:30 – 16:30) on Sunday 13th September. More details can be found
here
. This wee break in the work schedule might actually mean that I get a chance to knit for pleasure.... Watch this space!!