I'll be honest with you: I was really apprehensive about attending Heriot Watt's "
Machine Knitted Fabrics
" Summer School. It wasn't because I didn't think that I'd like it (although that was a possibility), it was that I would like it. Perhaps even very much. And that's precisely what happened.
Like yours, my knitting time is very limited. And up until now, by "knitting" I meant "hand knitting, with needles". And if I don't have enough time to hand knit, then I certainly don't have time to machine knit – do I? Well, it appears that I'm going to have to make the time as machine knitting is really rather wonderful.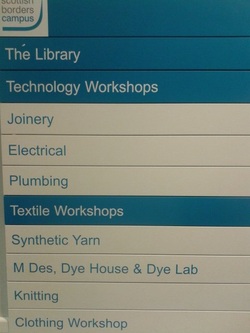 My immense enjoyment is due, in no small part, to the excellent teaching from members of the
School of Textiles and Design
, specifically in the knitting department (a university with a knitting department, now that's cool): Plenty of clear, practical demonstrations, supported by handouts, and lots and lots of time to play. There were no formal aims or objectives, just a general invitation to try to replicate each new technique and then play. No limits on the time dedicated to producing each sample or developing the new skill. And no limits on the yarn – it was all pretty brilliant.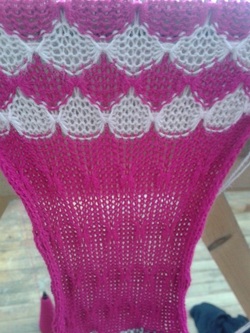 Now, if this is sounding too childish for your liking, try replacing "play" with "research" in the above paragraph - it was just really, really fun research: Look how combining a change in colour exaggerates the shaping introduced by the tuck stitches.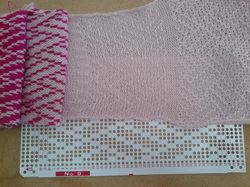 See how using the same punch card can produce such varied results when changing the stitch pattern or colour way.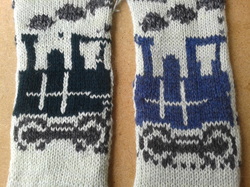 Look how I can make train pictures (okay, that was properly playing!).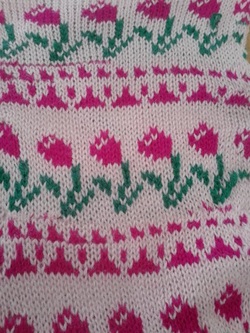 We used punch cards to make our Fair Isle patterns and I confess, it did feel a little like cheating. I know that when we choose a specific design when hand knitting, we follow the colour changes and stitch pattern as set by the designer – and using a punch card is only one step further along this process – yet I somehow felt remote from the knitting. I wasn't responsible for the colour changes, the machine took care of all of that itself: I literally selected the two colours, put one behind the gate and left the other in front and knitted. Job done. Changing the second colour in-pattern required a little more user input to get the precise timing of the new colour to match the desired position, but after the initial adrenalin rush of getting that wrong and then right, it went back to feeling rather mechanical. Which, of course, it is.

I loved the cabling. It's probably no surprise to you since I love hand-knitting cables but I really enjoyed the interaction necessary to machine knit cables. In the same way that hand-knitting cables isn't hard, knitting cables on a machine also isn't hard, it just requires care and patience. Manipulating the stitches by hand – using a "transfer tool" to swap the required number of stitches from one needle to another - made it one of the slowest techniques that we learnt. Slow for machine knitting you understand.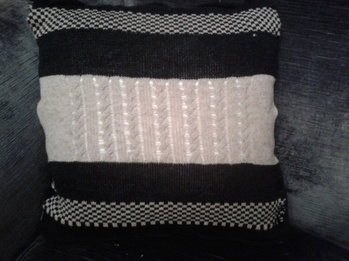 This was one of the many (positive) surprises for me: The true speed of knitting with a machine (and this is only a domestic machine, powered by my right arm). While creating a series of seven cables, and with knitting seemingly pouring off the machines beside me, I started to feel frustrated at my lack of progress. And then I reflected: The front panel that I completed for my 45 cm x 45 cm cushion took less than three hours to knit. And that included tinking back three courses (= rows), each with 128 needles (think stitches) as I'd forgotten to register the card for the Fair Isle pattern (I'd messed up the Fair Isle). Three hours.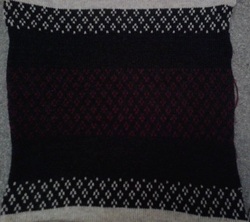 The second panel of the same size but without the cabling (and without the tinking) took a little over an hour. Yes, I think I could find the time for machine knitting.


Working in such a creative environment had other benefits too: We regularly chatted to and then admired the work from fellow students who spent their week sewing, weaving or screen printing – meaning that most of us want to return in next and later years to try projects in other disciplines. We were shown Heriot Watt's state-of-the-art Knit Production Unit, where the highly sophisticated machines are pre-programmed with the complete design of the garment allowing it to be knitted entirely in one piece (and hence the reason why our work, using the domestic machines, was referred to as "hand knitting"). And I changed. Not only my views on machine knitting but so also my aspirations for what I'd like to achieve as a knitter. I even changed the style of my dress! Out came those large beaded necklaces gifted to me by loving family members but previously considered too "out there" - all of a sudden I wanted to wear these with bold colours and stunning knitwear – but this is still me that you're talking to and so far, I still want that to be hand knitted.

I'm genuinely delighted to have completed the summer school. I already had a knitting machine and I'm thrilled that I'm now able to use it and that some of the reasons for buying it may be realised. If I tell you that I've just purchased a second knitting machine, to knit chunky fabrics more akin to my hand knitting, then perhaps you'll have a better idea of the full impact that this course has had.
A big thank you to all my class-mates: Your company both in and out of the classroom made the week most enjoyable and your knitting was truly inspirational.
Thank you to our tutors: Angela, Colin and Ursula. You're brilliant! We all benefited hugely from your expertise and new ideas.

And a massive thank you to my parents for making this possible by staying with us to look after not just my boys, but all of us – and so very well indeed.