It's that time of year when the thoughts of us, in the northern hemisphere, are likely to turn to summer holidays. It may be that you're not going away – hoping to enjoy the best of the summer sunshine at home – but for those of us with school age children, this is most definitely holiday time, if only a holiday from school.
We're preparing to go away for a fortnight in our motor home (potential thieves be aware that I have the most excellent security system in the form of my most kind – and vigilant – neighbours; please don't test them) and by preparing, I mean we're in that oh-so-dull packing stage. Under the "essentials" category of the Packing List is "knitting" which, since the introduction of
The Plan
, where I've remained a one-project-at-a-time gal, is very easy to transfer from home to motor home: I'm going to take my current project (a scarf) and the next project in the queue (baby / picnic blanket). And a spare, of course. A fortnight is plenty of time to knit these – although we're also packing our bicycles, wet suits, surf boards and walking boots which suggests that the entire time may not be dedicate to knitting. And there, my dear Katherine, all your knitting plans start to unravel.
This isn't to say that I don't enjoy any of the other activities – because I do, very much, and this will be the first time that we put the boys in wet suits and introduce them to the waves so wish us luck! – but it really does interfere with the potential knitting achievements. It's at times such as this that I have to remind myself that I'm taking holiday knitting, I'm not going on a knitting holiday – and in terms of the knitting, the ramifications of this distinction are huge.
Clearly you're speaking to a woman who wants it all: Near endless hours of knitting, interrupted only for activities of her choosing. It was one of the motivating ideas behind my
yoga / knitting retreat day
: Start the day practising some yoga, then spend the rest of the day knitting with beautiful yarn, eating delicious food, and just generally chilling out before going for a soak in the hot tub. Heaven. While it's only a day, I'm hopeful that the meditative pace of the day will really help those joining me to fully relax so that they'll feel refreshed – as well as pleased with their knitting accomplishments.
The next sensible step would be to take the knitting retreat idea to more than one day and I'm delighted to be teaching at just such an event this autumn: The
2015 Geeky Puffin Knit Palooza
, in Edinburgh from 29th October – 1st November. There's no mention of yoga but there is cake and plenty of knitting and other yarn-related activities: Attendees get to chose from seven classes (yours truly is teaching "Beginner Magic Loop" and "Sock Heels Master Class"), have plenty of dedicated yarn-ogling opportunities in the form of exclusive shopping time at the specially-organised vendor market and a yarn crawl. I'm particularly looking forward to Kate's – of '
A Playful Day
' fame - class: "Getting to Grips with Social Media", where she'll be talking about using social media's 'Big Four' from both sides of the crafting fence: For business and for pleasure . And let me tell you about the goodie bag: Created by Sam of
Knitrundig
and filled with delights such as a skein of yarn in an exclusive colour way (dyed by Jess of
Ginger Twist Studio
), a notions pouch (again sewn by Sam), an exclusive set of stitch markers (made by Zena of
Little Yellow Uke
) and three patterns - surely the cherry on the cake of any knitting event? With all of these goings-ons (and more!), you might start to wonder if there'll be any time available for knitting but fear not! The retreat has been organised with this priority in mind and so I'm looking forward to spending lots of time with my needles, meeting old friends and new. (And if you fancy joining us, I believe there are a few tickets left.)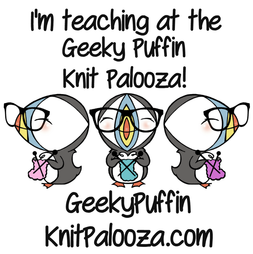 Well, it's about the time that the boys start taking apart the inside of the motor home in search of their toys and Husband makes threatening sounds about leaving without the knitting (he thinks that the contents of the emergency yarn cupboard should suffice for the trip. Doesn't he realise that's for an emergency?!!) and so I will wish you farewell and hope that you have a wonderful few weeks. I look forward to catching-up with you on my return xx