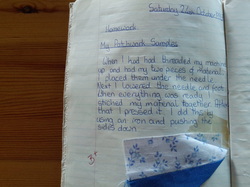 In October 1987, I made my first patchwork cushion. I know this, not because I have a good memory (because I really don't), but because I keep *everything* including my school textiles exercise book from the time. And, of course, the cushion.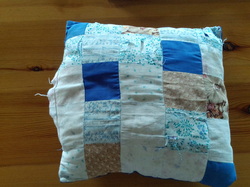 Even in those days I was obsessed with blue and this may have been the first time that I raided my mother's stash for fabric. No doubt there are some quality pieces in there for my mum doesn't differentiate between Liberty, Laura Ashley and others when it comes to sharing what she has. She is generous across the board - and I probably don't thank her enough for it (so thank you, Mummy).


The cushion has clearly seen much better days – and it's obvious that the love I hold for it is no longer enough to keep it together. Time for a makeover.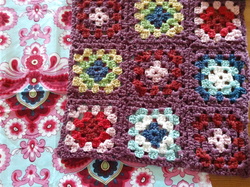 Enter the granny square panel that I completed for my Learn to Crochet workshop in April – inspired by Kim Hargreaves design in Rowan Magazine 31. It's the perfect size for the cushion and yes, it was planned (the accompanying picnic blanket being boxed away as a dream project). And it'll also be no surprise to you to learn that I'm using another Amy Butler's fabrics as a back panel. What can I say about this one except that I love it! It just sings to me!


And so here we go, nearly 27 years later another cushion. I like it as it is, but love it for the secrets that it holds underneath.