Her name is Heloise and she's been part of my family for nearly 14 years. Truth be told, she made us a family, gifted to Jonathan and I long before there were children. Her soothing company has been a support through many hard times – has ever a cat been integral to more viva preparation than she?! – and as our constant friend, she's shared in all our happy days.

She is a proper cat, seeking company on her terms: Never, ever tolerating being picked up or plucked away from her feline endeavours. Knitting was the one exception: Heloise is knitting compatible, having quickly realised that if she wanted my lap, it was going to be shared with needles and yarn, yarn that often trailed across her body – unimpeded – both of us content for hours and hours.

She tolerates my boys but not the nonsense that they bring. She permanently exited our bedroom as soon as they started sharing it with us: No longer could we be relied upon for lengthy periods of unbroken sleep, she sought her rest elsewhere – oftentimes I wishes that I could join her. She was never jealous, her actions never caused our babies or us any worry, she just accepted the changing family dynamics. Perhaps as the only other female in the house, her position was never superseded. Unlike our male cat at the time: Such was his anguish at the new human-boy arrival that he was diagnosed with a leukaemia, leading to me spend most of my maternity leave driving him to and from the University of Edinburgh's Veterinary Hospital where was under the direct care of the Professor of Feline Medicine. No doubt he thought that this was an appropriate use of my (and her) time and, of course, I didn't begrudge a moment.

Helosie outlived Abelard and another male contemporary. If they'd had life insurance we might have been suspicious. She's coped with changing indoor / outdoor access; she's holidayed with and without us, moved house with us; endured visiting dogs. Most humans would have less tolerance for such shenanigans but she rarely complained.

I find myself missing her already and she's not even gone. She's lost over ¾ of her body weight so when you stroke her, you can almost feel every bone in her tiny body. Long-time friends often don't recognise her but to me, her eyes and face are unchanged and still beautiful. She's constantly hungry but such is the nature of her cancer that she can barely absorb any nutrients. Practically this means that we feed her whenever she wants. Actually this means that she could be starving much of the time. Emotionally this means that our hearts are breaking. We are under the care of a super vet – and either we've always been lucky with our vets or they're all pretty darn wonderful - they just lack a magic wand. But then, so too, do our doctors.

So what can I do? Other than have a constant supply of ham and my vet on speed dial? I no longer knit when she chooses my lap – that can wait. I don't complain at the possibly inappropriate places she chooses to sleep: My fault for not moving the still-warm ironing or half-finished knitting. I leave her undisturbed in her hiding places. I try to pretend that it's not real.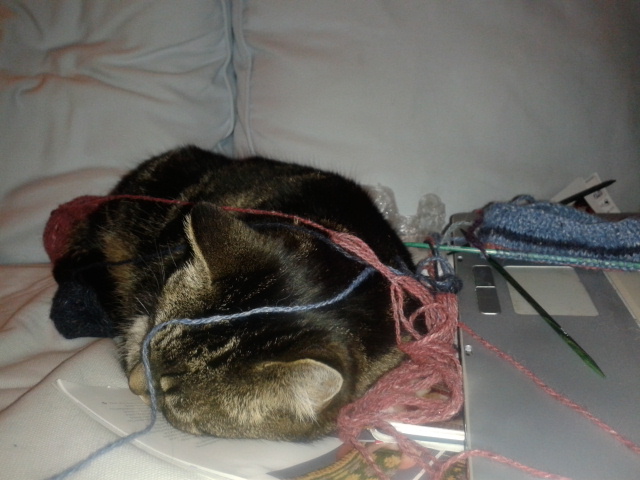 These words were written a fortnight ago. It is with sadness that I complete this piece by telling you that she died on Friday. Rest in peace my precious little Heloisey.