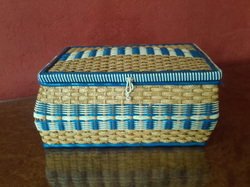 A couple of weeks ago, we were in Duns for the boys' dentist appointment and as we were leaving, all stickered-up and new toothbrushes in hand, I got distracted by this sewing basket displayed in the window of the vintage / antique shop. Given its colour, I know that you're not surprised but, with my nose up against the glass, I decided that it was a little too forlorn for me – and really, what did I need another sewing basket for? But, my curiosity piqued, we crossed the threshold in search of other treasures.

Of specific interest was another, slightly smaller and less worn sewing basket, a set of Durex dpns, a child's toy high-chair that reminded me of one that my Granny used to have and two matchbox cars. In fact, so enamoured was I by the police and bright orange racing cars, that I could only part with them into the hands of my very accommodating and patient little boys. But back to the blue sewing basket.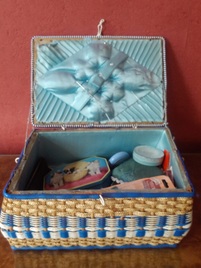 Having made a small mound of potential purchases, and benefiting from the assistance of the owners in seeking other textile-related delights, the blue sewing basket was brought forth from the window for my inspection. And opened. And I nearly wept. For this was not an empty shell of a sewing case but it still held all of its tools – just as if its previous owner had closed it after completing the latest repair - but, of course, had never returned.

Being the sentimental old wotsit that I am, I couldn't leave it. I couldn't bare to think of it being abandoned, unappreciated and unloved. It needed to go home to that of a sewer and, in the absence of anyone else, that was mine.
It's taken a while to start exploring the contents for although I bought it, it still doesn't really feel mine. There's a name on an old medicine (now pin) tin suggesting that its original owner lived in St Boswells and there's still a part of me that would like to return it to her family as its part of their history. But I'll have to assume that if such family existed, its appearance in the vintage shop was no mistake. Other people are more pragmatic, sensible perhaps, about the allocation of such items. Clearly not me. This is the crafter who stores her knitting needles in an old corset box and a plastic, tartan case that she would never consider owning had they not belonged to her Granny. This is the crafter that has an old sweetie jar of reels of thread also belonging to her Granny: You can see her writing on the front label and, if you're very careful, you may catch a whiff of the musty store room where they were once stored when you release the lid.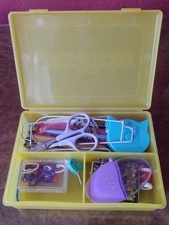 I also have my mother-in-law's knitting box, and it's where I can always guarantee to find a needle for sewing up and the last remaining embroidery scissors when all others have gone astray. This is the crafter who uses her mother's old sewing machine case to store her stash, has fabric generously donated for workshop emergencies and treasures other examples too numerous to list, constant reminders of her mother's crafting history and early family years. I would willingly exchange these for a few more minutes with my loved ones, but while death and distance prevent such frequent visits as I would love, I take comfort from their ever stoic presence and contribution in this important part of my life. But back to the blue sewing box.
And so I have had tentative look, opening tins to find a life-time of collected odd buttons, amassed needles (and there are a lot of them), tape measures, pins and more. So much more. I'm amused – and a little relived - that this sewer, like me, could never operate with only one of everything, that a spare – or spares! – form an essential part of the kit. They point to a thrifty woman of who shopped in Woolworths (which, after my brief spell working for them, will always be a special place), one who kept the free gifts from magazines (don't we all?) and who seemed proficient in a wide range of repairs and alterations. There's no indication that she was a knitter – but if you were to find my sewing basket, you'd probably reach the same conclusion.
I cannot treat these as museum pieces. If I hide them away, then I know that when I next stumble across them, they will no longer be seen as a pleasure, more of a burden, taking up both physical and emotional space. This is not what they were created for and I suspect that any crafter would want them used. So the buttons will be sorted and some, maybe all, will be assigned to the boyss craft drawer for embellishing pictures or like – and I will think of this unknown sewer every time I glance at the finished collage once pinned to the wall. The pins and needles will be sorted and absorbed into my own collection for both home and work – and I will be thankful every time one of these is put to use. We plan to get the boys a sewing machine of their own, so they will obviously be in need of their own sewing kits, the basis of which may be formed by some of these items. And the sewing basket? Well, as Husband wonderfully suggested, this will now live in the motorhome – after all, no home, even that on four wheels, is complete without its own sewing basket.