... Today was the last ever Rowan coffee morning in John Lewis Edinburgh. I could be optimistic and say the last ever planned coffee morning but I'm not sure I can allow myself that much hope. This is the last full month that we will be able to benefit from the wealth of knowledge, experience and inspiration that the Rowan Design Consultants have shared with us. From the beginning of July – and much sooner in many cases – our John Lewis's will be without the central core of their haberdashery departments. I don't mean to belittle their JL colleagues but I'm sure that I wasn't alone in making a beeline for the person on the shop floor wearing the glorious knitwear and sporting the purple name badge to answer my yarn-related needs. These women have inspired me and countless, countless others. These women live and breathe their craft and have shown me how to do the same. I hope that this change in their employment status will not change that. I do not underestimate the shock, hurt and grief that they may be experiencing; I just hope that their enthusiasm for all things wool will not be so easily lost. But know that the draw of the John Lewis haberdashery department is not the same. Know that I will miss you. Know that I am among many who will feel the same.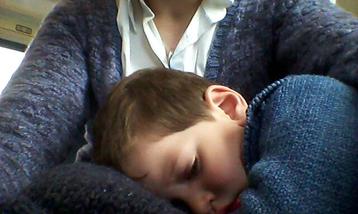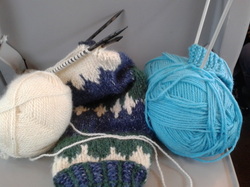 So desperate was I not to miss today's coffee morning that I took Youngest Son. Obviously we both wore Rowan. Obviously we both did some knitting on the train. Obviously we had cake (or, more accurately, the icing in and around the cake). Obviously we got more yarn. Less obvious – though completely in character – was the kindness that the JL Edinburgh Rowan Design Consultant, Lindsay – her name is Lindsay! – showed us, both of us. She immediately recognised and complimented Youngest Son on his little denim jacket (thank you again, Grandma). She was enthusiastic and interested in his knitting (to be a scarf for teddy). As the youngest attendee in the history of her coffee mornings, she was nothing but kind, wonderful and so, so thoughtful – to both of us. For example,
... I missed a wonderful photo opportunity. Picture it: My friend and I both wearing our versions of "Harwood" with a Rowan, denim-wearing toddler between us. That's Lindsay for you: She correctly predicted that I would be wearing my jacket so brought hers. Invited me to share the floor with her so we could twirl together. I thought of asking someone to take a photo but knew that in the time taken to set up the phone, the moment would be lost. Not that I would have really minded. My memory is pretty awful and such moments – semi-contrived or not – are precious. I look forward to the next time that I can welcome Lindsay here – and perhaps she would wear her Harwood and we could try that again?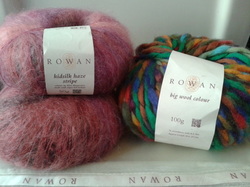 ... When does Big Wool Colour make a beard for a teddy? And seriously, what does Youngest Son expect me to do with it?! Other than find a special place to store it and call it his stash?


... Speaking of stashes, I had to raid mine looking for more yarn for my version of "Svala". This jumper is the reason that I'll be over-ordering the yarn for my next commission: It's just too stressful, and pleasure-less, knitting without the guarantee that there's enough yarn to see you through to project's end. Anyway, while I found some more "sheep" colour, I discovered that didn't have any felted tweed "pine" (hence the destruction of the Christmas decoration: Ding, dong the bell really is gone). Unexpectedly, I also found two more UFOs: (1) The first, and incomplete, glove of the pair I planned to knit for Husband and (2) the front and back of a summer top for me. Yep, I could have cried. So much for the joy of casting on New Project with only two approved WIPs on the needles. However... The Plan can be modified to accommodate at least one of these abandoned pieces – the summer top, obviously. And the gloves can go onto the autumnal list. Or something. This is, perhaps, fortuitous as the organisers of the Yarn Retreat that I'm teaching at in October are running an informal KAL: Knit for points between 1st June to retreat start. So it would be silly to cast-on something new before Monday – plenty of time to finish Oldest Son's jumper and the summer top (hee, hee).

But I'm not going to cry. Instead, I want to thank you – thank you all for contributing so positively to my life. For it wouldn't be as good as it is without you, and, of course, I include my fellow Rownaites, past and present. Lindsay, Bev, Karie, Freddie, Jeannette, Alison, Jo and the many, many others that I've had the pleasure of meeting before knowing your names: Thank you. Thank you all. And you don't need a purple badge to knit with me – you know how to find me and you're always welcome xx