Wee Cria is off the needles! So close to project's end, I'm afraid that you're going to have to wait for a photo. Unfortunately, this might take longer than planned as I can't find the buttons. Baby's mother has been most noble about the loss (she chose the buttons along with the yarn and pattern) but clearly there's only one course of action: I have to turn the house upside down to find them. Or else play psychological button warfare i.e. buy some new buttons so that the new-old ones will immediately present themselves. Yes, you playful emerald-green buttons: As gorgeous and perfectly coloured as you are, you are not irreplaceable and I will finish the garment. (That ought to have them rolling out of their hiding place quicker than you can say "Hmmmm... don't you have a button box? ".)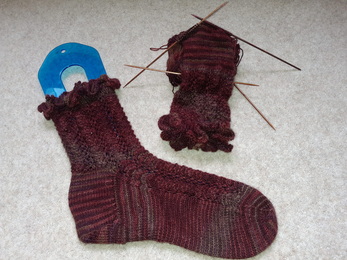 Funnily enough, loss of the buttons has also coincided with a loss of my knitting mojo. The final eight rows of Wee Cria were only worked yesterday after several days of nothingness. That said, I have got all excited about "Alda", sock two! Really, really enjoying the lace work. I seem to remember it being more complicated and having conversations along the lines of "It's only a four row pattern repeat – and two of those are knit rows – but if I don't knit it when I'm properly awake, then it all goes horribly wrong". Can't really explain it. Maybe I am getting a little more sleep? Maybe my little grey cells are making a slow recovery?

But, again, I seem to be working in stops and starts. To be absolutely honest with you, I'm afraid that I'm going to run out of yarn. To accommodate my Katherine-sized feet, I'm knitting the largest size and worked an extra couple of rounds on the foot section (if the sock ain't going to fit, it ain't worth knitting) and I've convinced myself that this adaptation is going to exceed the yarn allowance. I could do something sensible about this predicament (like weigh the completed sock and the remaining yarn) but instead I'm knitting s l o w l y. Because clearly if I knit s l o w l y the yarn will last for l o n g e r.

I face a similar predicament with "Svala" but this time I know that I don't have enough yarn. And that's fine, all part of the plan. There's enough for the front and back to be knitted in the same Cornish clotted cream yarn loveliness and I've several plans B's up my sleeve should they be required for the garment's own. I find the uncertainly doesn't really lend itself to knitting quickly – but I should just get on with it. No, I really want to get on with it.
Reading this, you might think that it's been a relatively successful week, that whilst not uber productive, I've not strayed from the established knitting path. Well yes, that may be true on the needles, but in my head.... First off, that
Rowan
have a lot to answer for with a Magazine full of summer goodies. When
Mag 57
first landed on my doormat, I spent hours and hours analysing the designs, mentally listing their individual merits, aligning patterns with stash and imagining myself in a glorious new summer wardrobe. "
Alexus
", a cotton tunic dress, made it to top of the knitting list and there it stalled, not having a stashed resource to allow immediate cast on. But the idea remained. And then allowed itself to be shelved, along with its magazine, to facilitate the more likely success of The Plan.
And then "
The Knitter
" arrived, it too full of springtime wonderfullness - including "Alexus". Seriously, what is a knitter to do? Okay, so it won't be the quickest of knits but, since I'm always going to be wearing the dress with leggings, it doesn't have to be ready for the height of the summer, it will be a highlight of my summer-autumn transitional wardrobe. (See what I did there? Moth to the proverbial yarn light.) And when am I going to knit this, you ask? Okay, now it gets a little tricky. Definitely not until "Svala" and "Alda" are finished. In fact, perhaps it would be wise to avoid addressing the lack of HK cotton until those are finished? And then knit some more of "Isis Tailcoat" while I wait for it to arrive, knit "Alexus" in the new yarn and then finish "Isis". All in time for autumn. Job done. And quickly now, moving on.....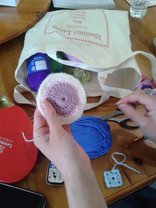 Yesterday I had the pleasure of the company of other crafters for tea upstairs in my studio – and one of the wonderful things was the variety of work that they brought with them. One crocheted blanket sections....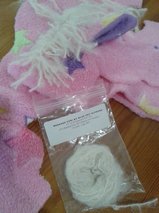 ..... another sewed a unicorn (using up some of my near-ancient "Yarn of the Month" collection for its mane – Blue Sky Alpaca!!! – see, I always knew it could come in handy for something) and then there were the knitters.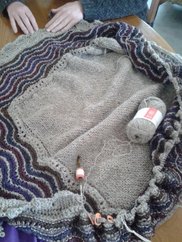 J is perhaps the most dangerous of these – partly because of her willingness (pleasure, even) to experiment with new yarns and designers and partly because she is so very productive. (That jumper she was knitting last crafternoon? She was wearing it yesterday.) So J was knitting a Shetland Hap Shawl – and very yummy it was too in its Jamieson and Smith wool worked in swigey, springy garter stitch. And then, quite literally out of her bag, she pulled some of the latest offerings from
Ginger Twist
: "Muddy Daffodil". Not normally one for yellow yarns, Jess's combination of grey and white with the mellow yellow was just stunning. It took my breath away. A was a far better guest - working with some of my own patterns – until she wanted ideas for her next project. Oh dear….. More knitting research, lots of wonderful new projects discovered and rediscovered. A is a such a thoughtful, dedicated knitter so I suspect we won't be seeing any of these until she's finished her current work, which is beautiful (and since I seem to have lost the photos, sorry A, you'll have to take my word for it) – and not just because of your choice of yarn colour!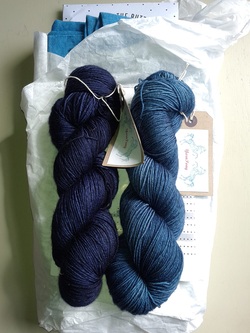 Speaking of blue yarn... "Byatt". Oh my. It's not even made it onto the list. Yet there it is, pattern stacked neatly under the chosen skeins of yarn and over the blue linen in which I'm going to make a dress. An entire outfit, just waiting. And with delusions of wearing it this (Made It) May. Seriously Katherine: How many hours do you think there are in a day? Or, more importantly, how many hours can you knit in one day? You're lucky if you manage two. Wanna make this happen? Can you increase this to three? Without detriment to your family and sleep (and therefore your family and everyone around you)?




Hmmm... Let's see what happens, shall we?