Such a glorious day! Bright sunshine giving a gleam to all that its light touches: The increasingly blue sky, the awakening grass and the oh-so-beautiful daffodils and their other bulb-like friends. It's windy, of course, very windy. I've just run around Reston and can most definitely vouch for the wind – and its stubborn reluctance to change direction to help push me up the home 'straight'. Definitely the kind of day that encourages thoughts towards spring knitting. Suddenly, we want to bring the colour and lightness that we're experiencing outside onto our needles. No more heavy wool; we want silks, linens and cottons (though we'll probably have to settle for blends of each of these!). Rest your cable needle a while: We're going to be knitting lace, going for delicate prettiness over elegant texture.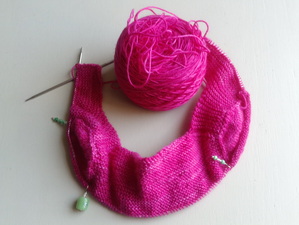 So what does this mean for me? Quite honestly, it means the usual conflict of trying to finish existing "winter" projects while failing to delay casting-on new spring-like designs. Currently, top of the priority list is
Ysolda's
"
wee cria
", which I'm knitting in the gorgeous "Deeply Wicked... Haylupp" from
easyknits
– doesn't the colour just sing to you? This is for D's baby girl who, God willing, will be making her appearance into the world in the next couple of weeks. And no, I'm not ruining any surprise by sharing the project with you as D chose the yarn and pattern herself. I only hope that the finished work lives up to her expectations.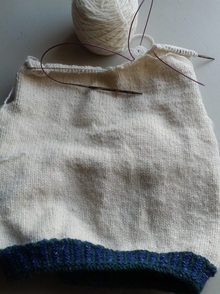 We also have "Svala" on the needles. Not only superseded by the timeline of an unborn child, but the knitting has grown-out of the "fit in my handbag" criteria and so now spends most of its time at home with little progress being made. But this is only a temporary state – I've come to learn that almost everything in my life is a phase and we'll be back to this in a week or two.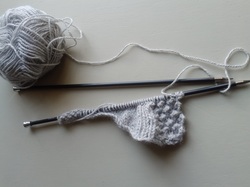 What else? Well, I was at the
Edinburgh Yarn Festival
a couple of weeks ago where I had the honour of teaching a couple of workshops. It was a truly fantastic event, bringing together those involved in all stages of yarn production, from the animals, the dyeing and spinning, right through to the designs and master-classes. It would have been rude not to have visited some of these lovely people in the market place and even rudder not to have supported their great efforts by not buying anything.
Which is how we ended up with "wee cria" and easyknits. And
Purl Alpaca Design's
"
Isis Tailcoat
" and the 12 balls of alpaca needed to knit it. Oh, and the two pairs of KnitPro "Karbonz" so that I could cast-on the work immediately. (You can imagine Husband's face when he saw the needles – at least neither of them are 4mm!) I did try to explain the fortune that I'd saved by not buying the completed garment as displayed on the Purl Alpaca stand – even though it was a perfect fit. How satisfying would it have been to walk away with a completed garment – but the button was in the wrong place. (Was it five rib sections that it needs to be moved up?) It was stunning though, and I'm so looking forward to completing my own version. Clearly, the weather is ideal for wearing it now – but hopefully it'll be ready for the autumn-winter transition at the end of the year. If not sooner.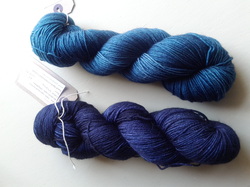 In classic celebration of these lighter, brighter days, I will also be knitting a shawl. D very kindly treated me to
Karie Westermann's
"
Byatt
" for which I'll be using some of my precious last skeins of
Yarn Pony
's Mustang, probably "uniform" and "denim". Having bought the pattern, it was interesting seeing so many versions of the shawl at the festival – the different colours, the varying number of repeats. Also lovely to see a pattern designed not only to revel in the skills of the designer and knitter but also the colour qualities of the yarn, with a large garter-stitch section allowing the yarn and its dyer to have a voice of their own (rather like "wee cria"). D is using some "
Old Maiden Aunt
" and has already made significant progress with her version – perhaps "Svala" will be shunted further down the knitting list as I'd really like to have at least cast on my shawl before D casts hers off.
How about you? Has Spring inspired a new approach to your knitting?