A long time ago, maybe three years ago, my mother-in-law gifted me some Cornish yarn to knit Oldest Son a traditional Cornish Gansey. She had provided enough yarn to knit the size for 3 – 4 year olds but, upon reflection, I opted to buy another skein so that I could knit the larger size. No, this wasn't just a ploy to delay the knitting; I was trying to be practical: An energetic, bike-riding, scootering, exuberant five year old would be more likely to get wear out of a thick jumper, warm enough to be worn without a coat, than a three year old. A three-year old without an older brother already doing these activities, maybe.

Whenever it was last year that I broke my toe, I started knitting said jumper and then, after completing the back, I stopped. I can't remember why. There need not be any major reason as this pattern of behaviour isn't so unusual for me (if I ever let you into my unfinished project cupboard...) but I suspect that it might have had something to do with not really liking it. Yet feeling that I should. Or at least feeling that I should knit it regardless of liking it or not. I guess that's what happens when someone you love gives you yarn to knit for another person that you both love and then she dies before said project is started – let alone completed – so there was no opportunity for further discussion. Clearly my issue is with the untimely death and nothing whatsoever to do with my untimely knitting.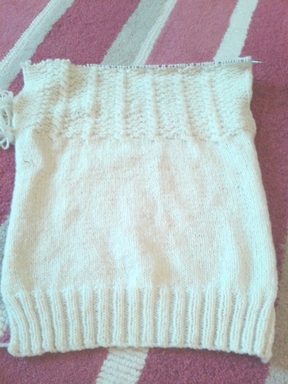 And so the jumper sat, untouched for several more months. Then Oldest Son turned from four to five and overnight, he was immediately loosing out on potential jumper-wearing days because I hadn't finished knitting the thing! Yet still I didn't pick up the needles.

This Christmas, however, it accompanied us as my third holiday knitting project. It travelled from here to Manchester, to Lapland, to mid-Wales, back to Cornwall and then home and how much did I knit? Not a single stitch. If I tell you that Holiday Project Number One was completed en route to Manchester and Holiday Project Number Two en route from Cornwall to home then you can correctly surmise that pretty much the only knitting I did was in the car. In fact, it was just as I was pulling out Holiday Project Number Three that Husband announced that it was my turn to drive. (Honestly, these men. Since when does West Cornwall to East Berwickshire require two drivers?!)

But at least the jumper had made it out of the cupboard, and to the top of the "Most Likely to be Knitted" list. And there, in the honest light of a winter's day, I admitted that I really didn't think that it was going to work in the way that we hoped and, as such, it was going to be a waste. In case you think that this is some fluffy get-out clause, here are my very practical reasons:
(1) I don't think the colour will suit Oldest Son. If you think that I have pale skin; he is my delicate English rose-boy. And a creamy off-white does nothing for him except highlight the bags under his eyes.
(2) Have I mentioned that Oldest Son is a boy? A five year old boy? Who eats like a five year old, plays like a boy. In a white jumper?! Err, no. Three mins outside and his cuffs will be filthy. And then there's snack time where, even if we stick to bland treats (warm milk and raisins, for example), he's still likely to be wearing some of it.
(3) I don't like the open neckline. For a jumper that could, in all other respects, function like a coat, the neckline will let in the cold air. Even if Oldest Son claims not to feel the cold, I will be cold looking at him. (I'm still trying to defrost after spending an evening with him and his bare feet. Me: Socks, slippers and umpteen layers. Him: No socks, no slippers and apparently fine.)
And then I was reminded of "
Svala
", a pattern that I have long since coveted. Loved enough to put my entire family, including my parents, into a car and drive them for miles in the vein hope that we could purchase both yarn and pattern. But it wasn't to be. (Thankfully, we were able to partake of some rather delicious tea and cake so it wasn't a completely wasted trip.)
So I frogged it.
This time I didn't need the able assistance of a friend to do it for me (thanks again J!) and, in fact, I probably needed to do it myself. To experience first hand the sensation of undoing all of that work, the promise – to myself, my mother-in-law, my son. And while it was easy to return the yarn is back in a usable state, I'm not sure it'll be quite as easy for my conscience.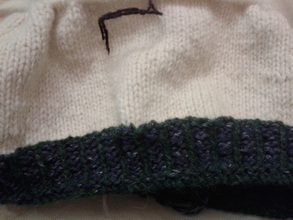 Jumper number two is under-way. Jumper number two accompanies me pretty much everywhere. It's not the smallest of mobile knitting projects (given that it's a jumper and I'm knitting in double (which means I've got two balls of yarn to transport)) but it is one of the easiest: I'm knitting stocking-stitch in the round. So, yes, I can talk, drink tea, eat cake, keep an eye on the boys and knit at the same time. Its near-constant presence is also providing me with some comfort: I like the fact that it's nearly always to hand, I love the fact that I'm knitting it. I love knitting it, in fact.

So maybe this time Oldest Son stands a chance of receiving his completed jumper. And his grandmother's wish will finally be fulfilled.

But in the meantime, thank you for the knitting.