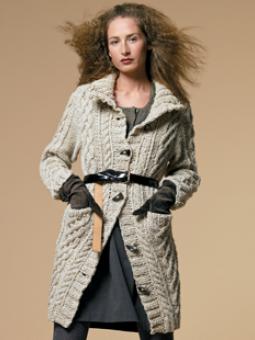 I've started knitting Sarah Hatton's stunning "
Harwood
", part of Rowan Studio Issue 2. As you can see, this is a long-line, beautifully cabled jacket. I am, of course, knitting it in blue.
Now, this is a completely new style of project for me in that it's longer (in length!) and straighter than anything that I've knitted before, but I have the yarn and like the look of it so thought that I'd give it a go – although it may be that this perhaps isn't the cleverest of ideas.
For those who know me, you know that my body shape is pear. You also know that I'm quite tall. In her book "
Knit to Fit
", the brilliant Sharon Brant actually cites this jacket as a good example for someone who is petite (oh dear) and "is a great design for athletic shapes" (oh dear, oh dear). Perhaps I should stop knitting now? (It's a serious question.) However, the reason behind purchasing this book was because Sharon shows you how to adapt patterns to make them fit properly and so I have just referred to it for advice on adding some shaping around the waist. Which is a possibility. So, so far: Option One is to scrap the project; Option Two is to add some waist shaping.
In her description of 'Garments that suit Pear Shapes', Sharon recommends "shaped, short sweaters and cardigans" (i.e. most of what I've been knitting for myself, which is kinda reassuring), so an Option Three could be to shorten the jacket as well as to shape it. However, she then goes onto say that "belted cardigans are good, as are patterned garments" – is this not "Harwood"? Any shorter and the jacket wouldn't need a belt, right? So Option Four is to knit as stated in the pattern, without any alterations.
What do you think? My needles are poised as I wait for your answer.....