You know me: I'm not a one project girl. A small part of this is due to trying to balance my work knitting with that that I knit for pleasure, but the largest part of this is my moth-like tendencies to new yarn, new patterns and the glorious new cast on. For this reason, it is only recently that I've been able to justify casting on a new garment project for me. Yes, I have two pairs of socks on the needles, one headband and a scarf but since these are only small projects, they will be completed in only a few knitting sessions.* A larger project – of the type on which I used to thrive – now that requires real commitment in these days of very limited knitting-for-me-time, and so there was no small amount of pressure to ensure that I correctly chose The One.
Part of the motivation for The One is my diminishing wardrobe of knitwear. It's like I woke up one morning and suddenly realised that I didn't have enough jumper-type garments for every day wear. If memory serves me correctly, this happened last autumn too – but since this season quickly passes into winter (especially for a cold soul such as myself) – the panic was short-lived. This year, however, it seems that I could no longer ignore the problem and clearly hand-knitting new transitional garments was deemed the most sensible way forward.
On one level, this solution does hold certain merit. After all, I do have quite a lot of yarn and several patterns to choose from. I also have the skills necessary to knit the things I want to – it's just the small question of time. (Apparently the success of most projects is in the details.... Ahem.)
Now normally, I would go straight to my beloved
Rowan
for both pattern and yarn. Not only am I guaranteed to find something that I'll love but the finished garment will also serve as work-wear so it's win win. This time though, I thought that I'd try something different: A whole new designer and some non-Rowan yarn. (Don't underestimate what a Big Deal this is for me. It's like going off Cadbury's chocolate.) As is often the way with these things, I stumbled across a lovely pattern in Ysolda Teague's new book "
The Rhinebeck Sweater
" and it's Ysolda's own "
Pumpkin Ale
" that I took a fancy too (if you too are interested, note
errata
for this pattern). The jacket doesn't look like much from the front but one glimpse of the back and you're in for a real treat: Beautiful cables, flattering shaping – it really is stunning. On a previous visit to
Kathy's Knits
, I'd picked up some of
Rennie
's Carnation Supersoft 4ply. Okay, I'll be honest: I bought her out of it. The colour is an exact match for a treasured (but now worn out) jumper gifted to me by one of my brothers but since I didn't have a pattern, I took all that she had – wouldn't want to run out! Since this wasn't the yarn suggested by Ysolda, I carefully knitted up several swatches until I found the correct needle size using two strands together to achieve the required tension. And then the knitting could begin.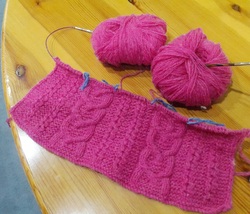 And it's been going on for quite a while. But this is all to be expected given the small amount of actual knitting time – and whilst it would be nice if I had an occasional visit from the knitting fairy, I'm okay with the slow speed of progress.



Fast forward a few months to last weekend when I was chatting knitting with my aunt. Like my mother, my aunt knits a lot but and it's great that we have this in common. It's always interesting seeing what others are knitting and browsing through their knitting books. My aunt is knitting a jumper for one of my cousins from Debbie Bliss's "
Land Girls
", more cables but after that the similarities to "Pumpkin Ale" quickly end, and whilst pretty and wholly appropriate for its recipient, the jumper is not for me. Another design from this book caught my eye: Think Red Riding Hood for grown-ups. A lovely hooded (red) cabled jacket, perhaps mid thigh length. It's very appealing. However, further study revealed that it has no way of fastening: No buttons (although it has straight edges so it might not be too difficult to add a band), but probably best suited to a belt fastening – only I'm not. And then I took my aunt to show her my project, my cabled jacket with – wait for it – no way to fasten the front. And it's shaped so adding a button band would be impossible, belts are a no-no – but then so are edges that just flap around, letting in the cold and making me cross my arms in desperation to keep in the heat. Was I knitting this to "wear around the house"? What, as some glorified bed jacket? No, I don't think so! I'm not putting in all those hours of toil for a woollen garment that I can't wear out because I'll be cold.
And now, on reflection, it seems that I won't be putting in any further hours at all. I have reached the conclusion that this garment isn't for me. Yes, it's very nice but it's not Katherine. So there remains only one course of action: Frog the work.
And then find an alternative The One. And I think that I've found it: "
Cullin
" by Mary Henderson (again, note the
errata
). And I think that I have some suitable yarn: Rowan's felted tweed chunky Not quite the break from tradition that I was aiming for but for me, but perhaps this is a start.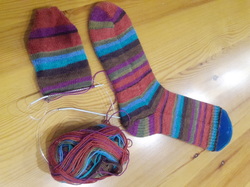 I am left wondering how I would feel after knitting much more – or even all – of Pumpkin Ale. Would I be quite so willing to discard it? How often would I wear it if complete? I think my maybe my hesitant knitting has saved me from a big disappointment. And given me time to concentrate on my socks. Win win.




* Provided each knitting session is several days in length, undisturbed and fuelled by endless tea and cake = totally improbable ever to happen.