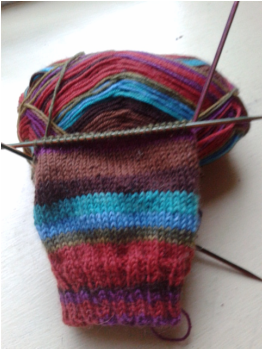 My wake up call last night was at 02:47 (I'm nothing, if not precise) – Youngest Son does like to mix it up. After popping into his bedroom, and expecting to be in for the long haul, I came downstairs, stoked the fire, put on the kettle – by which time, all was silent upstairs. I hadn't even completed a single round before the timer went off (no, you're not really surprised) and all was still quiet. Trouble was, I was awake. So, too, was the cat imprisoned in the utility room, no doubt for crimes again the sleeping (one of the side effects of "clearing" all the local vermin is that said cat is bored and sleeping more during the day; this makes him restless at night. His midnight prowls might even have been contributed to Youngest Son waking – though last night, it was definitely the other way round.)

So you can imagine my pleasure at being up, wide awake, listening to the cat scratching away at the door like some crazed, well, animal, in the wee hours. I also know how easy it can be to programme your brain: You wake up in the middle of the night; you "reward" your awake self with a cooked breakfast / episode of your favourite programme / chapter of your favourite book; you eventually go back to sleep. Noting the pleasure of the night's activities, you wake again at approximately the same time the following night for more culinary / cultural delights. Advice is to do something so monotonous that your brain is sooo off-put at the thought of doing it again, you sleep on through. Examples include arranging all of your food tins in alphabetical order or reading sections of the dictionary. No pleasure, no (tangible) achievement, no reward. Examples do not include sock knitting or, indeed, knitting of any kind, blogging, perusing Ravelry or staring at any other bright screen.

And so, anxious to avoid any further night-time nonsense, I downed tools and drank my "Sleepy Tea" in the darkness in front of the fire before heading off to bed.

As for the knitting progress that you can see, well, I cheated. Sorry. I have to be honest, I had never in my wildest dreams thought that this bed-time "re-set" would last long enough to allow even a single, let alone a pair, of socks to be completed. So the socks were going to have to be knitted at some other time, I just hadn't really considered when. Turns out that once I'd started, I found it difficult to put down the needles, to release myself from the pure pleasure of round upon round of meditative socking stitch. And although stopping is exactly what I did on Night One, yesterday evening no other knitting appealed to me – to the extent that I started whiling away the hours online. And then, sensible head engaged, I carried on knitting the sock. Sorry, again.

As for tonight, note to self: Go into Youngest Son's room and then GO BACK TO BED. Simples.