Yesterday, I was one of the fortunate few to attend Edinburgh's first ever "
Stitch Gathering
", organised by
Jo Avery
. Contrary to my usual stitches, this was a sewing, more accurately a quilting, event, and so this definitely counted as being "fun but outside my comfort zone" - having never quilted (!). But it was during Edinburgh's first ever
YarnFest
that friend, K, and I were "recruited" and, given the absence of complicated prerequisites (and I did make my own wedding dress, after all), we signed up just as soon as we could.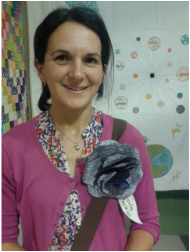 Preparation for the big day started long before the gathering itself: We were sent fabric tickets accompanied by a suggestion to embellish them in whatever way we desired so that the resulting pieces could be combined into a quilt to mark the event. Given that my preparation didn't actual start until "not enough time before" Sunday, I'm ashamed to say that my ticket was one of the few naked ones. (Maybe I should I ask for it back so I can contribute more fully?) I did, however, produce the required name badge: This was a community event so we were asked to make a name badge for a designated partner – and pretty much the only criterion was to use stitches. Unsurprisingly, my first instinct had been to knit something but in keeping with the spirit of the day, the name badge I made was created using fabric (Liberty Lawn and silk left over from my bridesmaids' dresses, in case you're interested), needle and thread. Given
Jo's blog
on the subject, I guessed that my effort was going to be atypical – and so I was extremely relieved when my name badge buddy, Nicola, was seemed pleased with the corsage.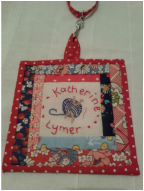 I'm absolutely delighted with the badge that she made me! Nicola had googled me and, on discovering that I'm a knitter, she thoughtfully embroidered a ball of wool and some knitting needles on the piece she made using the remains from a quilt she made for her daughter. I shall treasure it.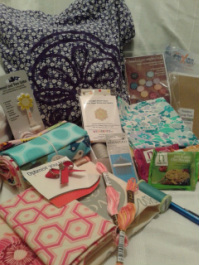 As well as the opportunity to improve my skill base, I have to confess that one of the retreat's elements that I was looking forward to was the goody bag. Not normally high on my list, but from the outset we had been promised a "goody bag to die for". I was not disappointed. As you can see from the photo, we were given a Liberty bag (mine was in blue – perfection) filled with almost countless delights: A roll of fat quarters, a box of sewing threads, a thread and yarn cutter, a button tin, some needles, a hexagon flower block set, a fabric pen, more fabric including some Liberty lawn, buttons, embroidery silks, broach, pen, oat cakes and water. Happy days.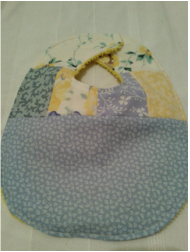 After distribution of the goody bags, swapping of the name badges, the real business began with the first workshop of the day. We'd been given a choice of three and K and I were both learning how to make bibs with
Julie Rutter
. From its description, I'd assumed that this was a beginner's class (I remember some comment about this being a good place to learn how to sew curves), but I thought that it would provide a good reminder of machine patchwork – and I was in no way disappointed. Julie is lovely: A great teacher, very personable and extremely talented with a good eye for colour and design. She is also a very good baker of cookies (and thank you so much for those!). I felt that her workshop was perfect: Interesting, enjoyable and with a completed bib at the end. A
whole class of completed bibs
, in fact - brilliant!
Lunch followed the first workshop and with it came the opportunity to admire what some of our fellow "retreaters" had been creating. My badge buddy, Nicola, had made a beautiful pin cushion with Jo whilst others had been experimenting with some crazy patchwork. Jo hosted a "Show and Tell" where a few of us presented some previous work – embroidery, quilting and so on. I didn't think I had a contribution until fellow attendees Lesley and Catherine persuaded me to
show the bag
I made with
Poppy Treffry
. And I'd like to thank everyone there for their generous and kind comments.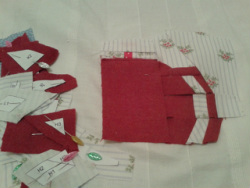 After the fat quarter swap and lucky dip, the afternoon session began with our second workshop. I had opted to learn how to do paper piecing – something that I hadn't even heard of until the workshop programme was released! (See how brave I was!!) In the beginning, this was more than a bit of a brain teaser and I struggled to see how any of the teeny, tiny pieces of fabric that I'd lovingly cut were going to form the finished mat. Thankfully I wasn't the only one. I think that Jonathan Avery accurately summarised our feelings when he said that "this was taking cutting up bits of fabric only to sew them back together again to the extreme". Still, under the guidance of our able tutor
Katy Cameron
, we progressed - inspired somewhat by the delicious cupcakes that she provided as a reward for completing our first section (yummy, yummy – thank you!). As you can see, I didn't complete the mat – but then none of us did so I was in very good company. After the morning's euphoria of a finished project, I was disappointed that I hadn't achieved similarly in the afternoon – particularly since in finishing the mat we would have quilted our work. As it transpires, somewhat belatedly, this had been something that I'd hoped to learn. I'm guessing that a "Beginners Guide to Quilting" might not have had the appeal to some attendees as the specialist workshops offered – though that said, I've attended conferences where there have been sessions teaching the basics alongside expert presentations. Interesting.
On the whole, I thought it was an excellently organised event. The day flowed without interruption from welcoming coffees to the after-show party at Jo's shop. The class rooms were well arranged with appropriate numbers of tables, power points and communal equipment (such as irons and cutting boards). The workshop topics were varied and interesting. Jo was supported by an excellent team of friendly helpers and my colleagues-for-the-day were wonderful. Thank you all for a super time!