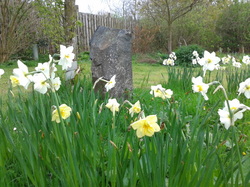 Okay, so it's been a while. Again. And I'm really sorry. If it's any comfort, then my knitting is also feeling neglected – to the extent that I'm beginning to wonder if I'm ever going to finish my current project, let alone wear it at the beginning of next month. Anyhoo.. I thought that I'd share with you some of the things that have been distracting me (in a pleasant way) and keeping me from my needles: My garden and other animals.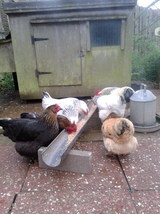 So the chickens continue to be a source of education. The three laying hens (Custard, Pepper and Salt, in case you're wondering) have been on strike for the last week or so. Turns out they're broody (again). Now I thought that a hen had to be sitting on an egg (or several) to be broody so that shows how much I don't know. Anyway, we turned them out of their house this morning and locked the door behind them so they had no choice but to get a good dose of sunlight (such as it was) and have a proper meal. And then this evening there was an egg. It's a start.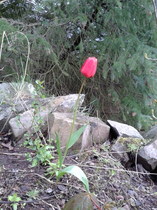 And then there are the plants. Bearing in mind that this is our first garden, I'm trying my hardest not to jump in with an unmanageable number of "projects" (does this sound familiar?!!) but I fear that I may not be succeeding. Truly there's more than enough to do without us adding new plants to the mix but what's the point in having empty greenhouses? So we're growing tomatoes (four different varieties), pepper (three kinds), lettuces (too many to be sensible) and strawberries (three varieties). Outside, "we've" (my dad) just planted raspberry and gooseberry bushes and a pear tree - and so with the existing apple trees, we have the beginning of an orchard (hee, hee).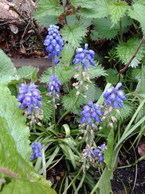 Unlike knitting, I'm hopeful that these projects are capable of looking after themselves, doing most of their "work" during the night-time hours when I'm asleep. Because this is so new to me – and because I haven't spent hours reading around the subject – I'm a little nervous that I'm missing something important in their welfare. Watch this space. I really do hope to bring you some fruitful news.
But speaking of things that don't happen on their own, I think that I'll try to get a couple of rows knitted. I'm on the first sleeve of my jumper – if I could find my row counter then I'd be able to tell you how far I've progressed. Oh dear. Maybe I won't be knitting tonight after all (sigh).

On the brighter side, here are a few more piccies from the garden this evening.