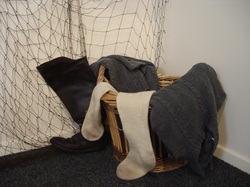 "Oh, I won't be long", she called over her shoulder as she said goodbye to her boys. "It's a small exhibition so I can't see myself being much longer than half an hour."
Nearly two hours later, Katherine returns home. Size, as they say, isn't everything.
Over Easter, the Borders Arts Trust organised a series of events around the theme of coast and its bordering inland communities. Given our grand tour of the UK over the same time, I was very disappointed to have missed it (although I did enjoy spending time with my family and attending the Poppy Treffry's fabulous workshop – more on that later). So you can imagine my delight to find that
Eyemouth Museum
still has their exhibition of Ganseys – and even more so when I was granted a couple of hours of "me" time to explore the exhibition without my very lovely, but very young, entourage. And what did I learn? Well, lots! And here are just a few snippets...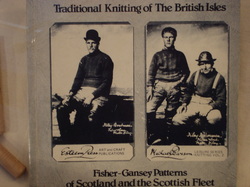 The exhibition consisted of a display of Ganseys (of different colours and stitch patterns) and I really enjoyed having the opportunity to see - up close and personal – some examples of this fine knitting. In some other circles, these might be considered "art", yet I'm sure the modest women who knitted them would never dream of using such flamboyant language for such a practical garment. There were also some examples of beautifully knitted swatches showing different knitting patterns. Alongside these were cabinets displaying some charming photographs of knitters and fishermen and, intriguingly, copies of some traditional knitting books. I can't tell you how much I'd like to have a closer look at those. And then there was the DVD: The
Moray Firth Gansey Project
has produced a wonderful series of short films, starting with the history of Ganseys: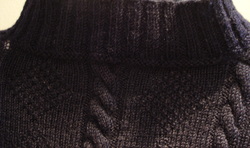 I had always wondered about the use and exact meeting of the "Gansey" since some use it interchangeably with "Guernsey" and "Jersey" whilst others have implied a difference between traditional fishermen's sweaters, even if they couldn't define it. Having seen the DVD, I'm now able to shed some light onto at least a few of the differences: Traditionally, a Gansey is a short, tight-fitting sweater with ribbed cuffs, waist and neckline – so designed to keep out the rain and keep the wearer warm - essential for hours and days spent out in a fishing boat. A "Guernsey", on the other hand, was a longer, looser sweater with a split hem and so didn't fit as closely to the body. I wonder if such differences arose from the climates in which the men did most of their fishing? I've not spent an extensive time on the Channel Islands – and none at sea fishing - but I'm going to guess that your "typical" Scottish weather is going to be colder and wetter than that approaching the coast of mainland France. Just a thought.

One of the things that I found particularly interesting is that Ganseys were knitted 'in the round' - an approach where the garment is made in one piece thereby eliminating the need for the often dreaded sewing-up. These days, there seems to be a trend towards people knitting in the round, rebelling against the so-called "traditional" method of producing a garment by knitting a front, back and two sleeves, which they then have to sew together. Some knitters may claim that that producing the individual pieces of fabric gives them greater flexibility when constructing their finished garments, yet the early knitters of Ganseys had clearly given a great deal of thought to their work and produced a very versatile garment: Gussets were incorporated under the arms to facilitate ease of movement; the front was often identical to the back so that sweater could be worn both forwards and backwards for a more even wear; the sleeves were knitted from the top down so that they could be unpicked from the bottom up, thus making repair to the cuffs or elbow more accessible. And when it was no longer possible to repair the Gansey, the wool was reused into blankets. It was simply brilliant.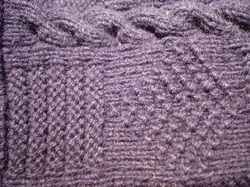 There's lots of discussion around the origin of the different knitting patterns used in Ganseys and their cousins the "Jersey", "Guernsey" and "Aran". There is common belief that these were regionally based, while in some small fishing communities it is thought that variations in stitch pattern could even denote to which family the wearer belonged. Evidence for both theories is hard to come by since few early examples of the fishing sweater exist and early patterns were passed down through the generations by practical example and not written designs. In 1955, the author Gladys Thompson published her book of "Guernsey and Jersey Patterns", detailing the origins and describing different patterns from fishing traditional sweaters knitted around the UK. This research allowed associations to be made such as 'marriage lines' from Wick and 'moss stitch' from Banff. Even at this time it was hard to find a regionally distinct example of the Gansey since patterns from different regions were merging onto the same garments. This was thought to be due to the wide-spread travelling of one group of the knitting community: The Herring Girls. These young women accompanied the fishing boats as they followed the herring, starting the season in June in Orkney and reaching Northumberland in September. When they weren't gutting fish, the women were knitting and so their patterns became widespread. Interestingly, it is also believed that the use and application of the patterns in Gladys Thompson's book also led to the deterioration of traditional patterns.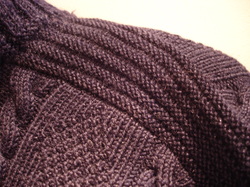 The DVD finished with recordings of knitters demonstrating techniques relevant to knitting Ganseys: Gussets, shoulder straps, joining seams using grafting and three-needle needle cast off. Whilst these were technically fascinating to watch, I was touched by the "reality" of those making the films: No fancy yarn, no expensive needles or accessories. In fact, I was reminded of my Granny as one of the knitters used an extended nappy pin as her stitch holder (maybe my mum has one she can share with me?). Watching the well practised movement of their un-manicured hands it was clear that those hands, those women have seen, have experienced life. And their knitting has been part of it. May your knitting be part of yours.