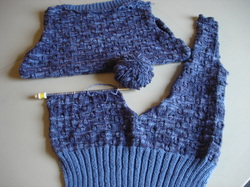 Come on! Hands up – be honest. Or are you really a "single-project gal"? (If your answer to this question is "yes", perhaps you should read no further.) Or do you have more than one project on the go?
Okay, so this is me, baring my knitting soul (be kind with your judgement, I beseech you):
"Battersea" (from Rowan's
Summerspun Collection
) aka "last summer's jumper". Now some progress has been made since I last spoke to you about this: The back is finished and I'm working on the front – and its second side, no less. This is my current favourite "for Katherine" project and I'm optimistic that I will be able to wear it this summer. One of the motivating elements with this project is that I'd really like to start knitting with some of my "oh-so-lovely" new needles that I was most generously gifted for Christmas. (If there are any non-knitters reading this, then please take my word for it: Knitting isn't just about the yarn and patterns. There are needles and bags and accessories and more and yes, these can be ranked.) Now I know the ol' rule (don't change your needles part way through a project as it might alter your tension) but I figure that knitting both sleeves with the new needles is an acceptable place to make this change. And then I can return the needles to my mum (hopefully she won't be too upset by the slight blue tinge to the light bamboo that seems to have gained from the yarn).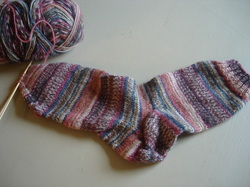 Socks (and yes, plural). I'm 12 stitches away from completing sock number one of the "Dumbledore" pair I'm working on (Opal sock yarn). That's six pairs of stitches to graft together to form the toe, so that's what, less than five minutes? Except that I need a little more time as I promised myself that I would immediately cast on Sock Two – that way it will be easier to pick up and continue knitting without having to conquer the "cast on without twisting the stitches" mound. I'm also test knitting some new sock yarn for
Kathy's Knits
. This might be top secret so I should probably say no more. Except that the 2.5mm dpns that I need for Sock Two are also required for the test knitting so the plan is to complete the secret-and-very-important-experimental-knitting and then get back to the Dumbledore socks.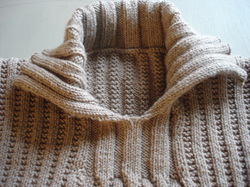 I've got another secret project on the go but this time it's the recipient that's the secret not the yarn. Though if I told you the yarn the recipient might guess so I'm going to stop talking about this one too.

Obviously there's still Husband's Jumper ("Moon" by Martin Storey using Jaeger's Extra Soft Merino Wool). All knitting complete, just waiting to sew it up. Really, what is stopping me? Do have some deep, psychological need to keep this project and not give it to its intended wearer? Am I worried that he won't like it, that it won't fit? Or is that it will leave a huge void in my life once it's done? (As opposed to liberating me from the guilt I've had hanging over me for far too long.) Or is it that I just need a couple of undisturbed daylight hours in which to do this? Maybe if I blocked it and laid it out, ready for sewing, it would actually get done?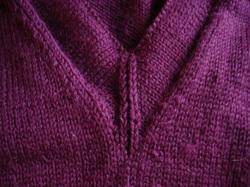 I also still have a jumper to sew up ("Sugar" from Jaeger Handknits #9). This has been in its "all knitted but not sewn" phase for a lot longer than Husband's, probably since before I was married. And the reason it's not moved on: I don't think that it'll fit. I predict that should it ever be a single unit (as opposed to just its component parts), I'll put it on and be sorely disappointed with the result. And yes, there is a solution to that too – give me time.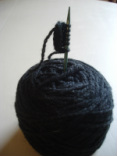 There must be other things…..
Oh yes, there's my sheep (
Cornish Organic Loopy Sheep
). Present from MIL along with the yarn to knit Oldest Son a jumper. I'm a whole 36 stitches in – which are almost worth undoing just to reduce the length of this list. Actually, that's not right: I distinctly remember knitting in loop stitch, which means that I've completed at least one leg. Completed and lost, brilliant.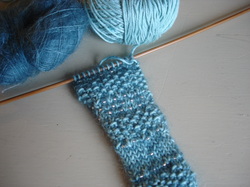 My hairband ("Lola Headband" from "
25 Beaded Knits
" by Debbie Abrahams using Rowan HK Cotton and Kid Silk Haze). You remember that old sausage: Complete-in-a-day project. Well, not quite.
There's also the baby vest. Complete bar the, yep, you guessed: Finishing.
Okay, this is getting very depressing. And it's very, very silly. There's no way I'm going upstairs to check for more.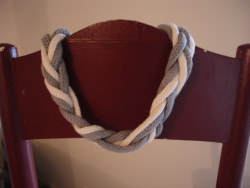 On a more positive note, I could also ask "what's just come off your needles?" and it is with some satisfaction – as well as an enormous amount of relief – that I, too, can answer this question (even if the list isn't as anywhere near as long):
I finally finished my necklace (from "
Vintage Knit Knacks
" by Sue Culligan using Rowan Milk Cotton). Truthfully, I'm a little disappointed with it, specifically with the colourway that I choose: I shouldn't have used the white. Too late, I learned from Kaffe Fasset that white isn't always a great colour use with others. Probably wouldn't have been as bad as going with yellow but it wasn't a good call. Following this discussion (in November, during his visit to Edinburgh to promote his
new book
), I "dumped" the project – emotionally, not literally, of course. Plus it had got a bit tricky – practically – as I hadn't got a bead with a big enough hole to complete the work. But then I wanted to talk about iCords in a recent workshop and, all of a sudden, new life was breathed into the necklace. A successful trip to
The Bead Shop Scotland
provided the necessary beady solution and ta-da, project complete.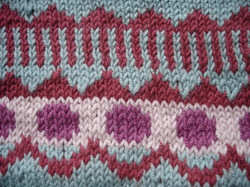 I've also completed another accessory bag. Admittedly this was for my "Knitting with More than One Colour" workshop but I've updated my pattern to reflect some of Rowan's latest designs (
Rowan Magazine 53
). And using some of their lurrvly
Wool Cotton
. Yes, you're right: When I start including work, I am grasping at straws.
And this concludes the list. And now it's too late to actually knit. Still, there's always tomorrow.