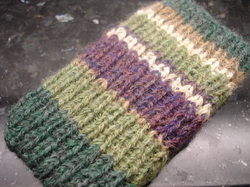 Hope you're impressed with the colourway: Not a single stitch of blue, or even red, although I have to confess I do like the green(s) / purple / gold / cream combo – particularly in the random stripes. And it's Lima (merino wool and alpaca) – so hopefully even the manboy in the phone shop will be impressed with its softness. Well, okay, he probably wouldn't be but he might have liked my contract-fee solution to protecting my apparently fancy-pants screen that's oh-so-fragile. Which, of course, is what every mother wants: A phone that can't be used as a teether / rattle / robust entertainment device. The phone, however, that did meet these criteria was soundly rejected by Oldest Son as it didn't make any phone calls, play any videos or, in fact, do anything interesting - but it was a nice attempt by the assistant to distract him.

Anyway, I'm sorry I've been out of radio contact for so long – I was distracted by house selling and buying, both of which have been achieved within a little over a week of each other (bar the singing and dancing that we leave to the professional solicitor types). I'd love to tell you about my studio and the 1.7 acres of land but I'm a little afraid that it might not work out – after all, it's almost too good to be true – so that'll be a story for another time.

Right now, and having dressed my phone so beautifully, it's probably time to work out how to use the technology it holds.