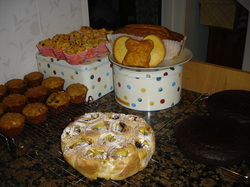 I've just had another wonderful day knitting with some very lovely people. Not that I necessarily need knitting to make a day wonderful. For instance, I spent many happy hours on Thursday afternoon baking in preparation for our Macmillan tea party (with many thanks to my boys for their extended quiet time). And Friday afternoon was spent in the company of some of my dear friends, drinking tea, eating cake, ignoring the (semi) rioting children and trying to catch-up with each other's lives through half-finished conversations - which just makes me look forward to the next time we meet to complete those exchanges. But back to the knitting....

So today was the second of my colour workshops in two weeks. (Listen to me: If I didn't appear so ridiculously happy about it all, it might actually start sounding like a "real job"!) I've had the privilege to teach Fair Isle (and also, in the first workshop, intarsia) to some very capable knitters whilst also learning a great deal while in their company. We've previously discussed how knitting is, on the whole, a very sociable craft and I love listening to and participating in the friendly banter that is often the signature of a successful day. (Although, if you were to walk in on us when learning how to weave, the pin-dropping silence may suggest quite the opposite - but it's happy concentration, let me assure you.) Today was no exception, with shared memories of old teachers and pupils from a shared school, taking knitting on holiday and knitting in public, living in London versus where we are now, working in a clinical environment (not just me, by the way, there was a nurse and immunologist among us), families, machine knitting, sewing, food and more.

There were differences, of course. I found it interesting that all the knitters bar me cast-on using the thumb method (this is still voodoo to me, particularly when performed by an experienced knitter as their hands and yarn seem involved in a very intricate dance). And they also all knitted with one needle under their arm – something that has never come naturally to me (and probably never will while my needles are too short). I also loved our diverse choices in colour-ways. It'll be of absolutely no surprise to you that I've been using blues and purples for my samples and I wasn't alone in selecting a palette in keeping with my usual tastes. Others were more adventurous, choosing shades out with their usual style but, regardless of their origins, I was delighted to see the colours singing together in all their permutations.

On top of all of the great knitting and great conversation, I've had the opportunity to enjoy a hot cup of tea and lunch in the company of those who can stay seated for the entire duration of the meal without disappearing under the table for a lost toy / crumb / steal the socks from a sibling. I almost felt grown-up.

But, on getting home, it seems that the calm of the workshop hadn't extended quite everywhere: Back in the non-knitting world, Husband and Sons had had a leisurely walk to the Botanical Gardens where they fed the ducks. And then went to admire the plants in the glasshouse. And then Oldest Son went for an unplanned dip in the lily pond – immediately followed by Husband. Apparently the water in that particular glass house is warmer than it is in most swimming pools – though, thankfully, not quite as deep. After a soggy taxi-ride home and more water-related activities (though, this time, an authorised hot shower), I was assured that some sense of calm was achieved although, with all credit to Husband, I didn't get the impression that he panicked at any point in the day. There's a reason why such events seem to occur when Daddies are in charge of the children and I'm not sure that they're all bad.

Anyhoo, it's socks next week so while I'm turning a heel, I shall try not to wonder how my little boys are turning circles around their father.