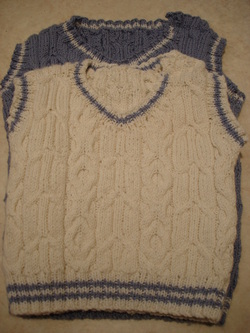 So not finished, not quite, but I think that I'm allowed to say that I'm nearly there. And perhaps if it hadn't been for today's adverse weather conditions preventing a trip to the local button suppliers (pushing a double buggy uphill in those winds, rain, sleet and snow? Thank you, but no!), tonight might well have been the night - the night that both tank tops were completed. And it's only now that I realise that there would have been something quite satisfyingly poetic about achieving this, in that exactly three months after Youngest Son was born I could have finished his first "proper" garment. And it would have been practically helpful too since tomorrow evening will be taken up with packing. But that joy, that sense of relief, of accomplishment, that will be for another day. Maybe even tomorrow?

I feel that I should do something with this time though as, given the pattern set by the last couple of nights, it's clearly too early to go to bed. Put the top layer of marzipan on my Simnel Cake? Maybe even pick-up some other knitting? Catch-up on a few emails? (But notice how the mention of something sensible, say like doing some pre-packing ironing, is glaringly absent!)

Oh! I know what I can do: Pack my knitting for the journey south. Done properly, that could take the rest of the night!