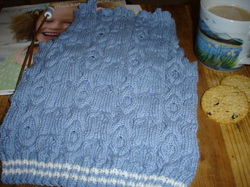 No, you're right: The reason you don't remember seeing a photo of completed "Harry" for Youngest Son is because it isn't. It still needs two arm bands and the corresponding side seamed. Sometimes I am not my mother's daughter.

As we know, finishing a garment can – when absolutely required - be done in a night. That final sprint to the finish line, eluding sleep with the adrenaline rush of sewing together two beautiful pieces of fabric, desperate to see the completed garment in the bright light of day. But the actual knitting of the fabric, that cannot.

And so here we are, the back of Oldest Son's version all done, the largest single section of knitting in this whole project. What a relief. But with only 17 knitting days left, I cannot afford to be complacent. Or make mistakes. Which is why, at this late hour, I'm not sure that I should cast on the front. Though really, how hard can counting to 86 be? I'll have a think about it while I munch on my biscuits....