I'd been dithering about whether or not to even go to look if Yarn Shop could fulfil "Harry's" needs but one word from my Professional Knitting Friend telling me that my order that been delivered and we were there like a shot. Yes, "we" – a nice little family outing: Quiet time over, everyone in the car – hurry, hurry, hurry! Not even time for tea and cake: There's yarn to be had.
Summer project all sorted (and thank you very much for your help), I then browsed the available selection for "
Harry
". I don't know what it says about me when even Professional Knitting Friend thinks that I'm being "very optimistic" but I purchased, nonetheless. And cast on that evening. And this is where I've got to: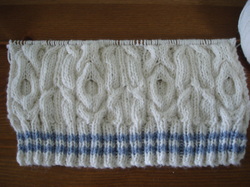 You may not hear much from me for the next six weeks and five days but I hope to be able to update my "Harry" status with photos from time to time. All encouraging comments welcome, as are offers to babysit, clean, iron and cook. But please keep all raised eyebrows under a hat.