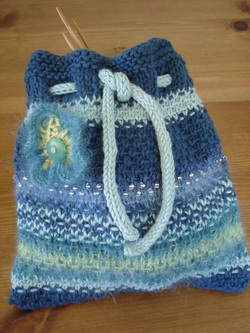 In my defence, it wasn't my fault.

On Saturday, I had to go to a knitting workshop as part of my "training" – yes, I know: I have the worst job in the world. The workshop was all about knitting bags. Again, I know and you're right: It's just awful. Bags, eh? But like yarn, you can never have too many of those.

I may have mentioned my so-called "knitting schedule" to you once or twice already and, in this light, I travelled with three "priority" projects. (It's knitting, it doesn't weigh much. Plus, I'm used to carrying a toddler kitbag, so it was a treat to have a wee bag full of Katherine-toys.) Things got off to a slow start as I had to spend from Edinburgh to Berwick unravelling yarn as, in my panic to answer my phone (I thought I'd left something at home), two projects became one. I had thought that I would have a wee snooze (a 0430 start doesn't really agree with me) but thanks to the teenage guitar player on the same early morning train, sleeping wasn't going to be a realistic option. So yes, I made quite a bit of progress. But that's where the plan came to an end.

Fast forward to workshop. To new yarn, new project, new inspiration. Oh yes, and how we were inspired. Picture a table full of your favourite yarns, imagine free reign to use any and all as you wish. It would have been extremely rude not to.

Six hours later, I'd left said workshop with half a front panel of my bag complete. After a further five hours, I'd arrived home with not only the front complete but the back started. And before going to bed last night, the whole bag was finished (and that was after a day out with Husband and Son). So, my Christmas knitting may have been suspended for a couple of days but I did start and complete an entire project. All in all, I think that counts as a pretty good weekend.