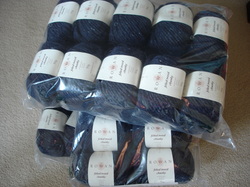 Today the yarn arrived to allow me to knit
Harris
.
Never before has so much yarn entered my home at once – an entire stash in one go.
To be honest, I'm more than slightly overwhelmed by it all.
As much as I'd like to launch in with knitting said coat (size 7mm needles – wow!), I'm going to try to exhibit some self control and not start knitting Harris until:
I've finished my Yuletide String
I've started and finished the second of my snowflake tablemats
I've finished the two secret projects (one not yet started)
And, somewhat importantly,
4. I've bought the pattern!